Flock Audio has announced availability of its innovative PATCH System, an most advanced digitally-controlled, 100%-analog patch bay routing system.
The system combines (PATCH APP) software and 64-point connection-providing (PATCH) hardware, allowing anyone to easily control analog audio routings without having to resort to the use of manual patch cables.
"I started working on a conceptual design known as PATCH in early 2016 when I decided to leave my stable career and chose to pursue the path less travelled of designing and developing a better and more efficient process for professional audio recording engineers from the depths of my basement home recording studio.

In need of a better solution other than the available 1870s technology known as a traditional patch bay, the concept was born to create a fully-digitally-controlled — but 100%-analog — circuit routing system that wouldn't color or alter the audio signals passing through it.

After two years of strenuous work and constant focus, Flock Audio, the company I started, created the world's first and most advanced digitally-controlled analog audio routing system with features never before possible in conventional analog audio routing." – Flock Audio CEO/Director Darren Nakonechny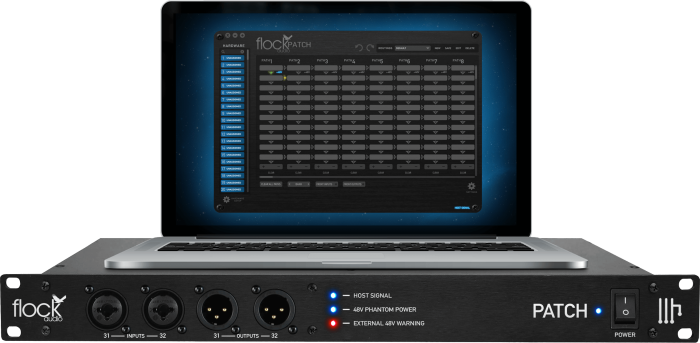 PATCH System features
64 point connections (32/32).
32 channels 48v phantom power.
2 Input / 2 Output front panel connections.
Create, store & recall routings.
Advanced multing capabilities.
Multiple system expansion (8 unit support).
Osx & Windows compatible software.
Software & firmware updates.
Safeguard warning notifications.
DB-25 connectors.
No label templates required.
No patch cables required.
PATCH System is now available for purchase priced at an RRP of $2,199 USD.
More information: Flock Audio