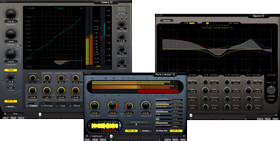 Flux has announced a 30% discount on the Mastering Pack for November 2009.
The Mastering Pack offers the best digital tools for mastering, bundling Solera, Epure and Pure Limiter.
Flux Mastering Pack
Solera II — Four dynamic sections working in parallel are completed with a transient manager, a stereo width control and, a variable soft-knee brick wall limiter.
Epure II — The algorithm of Epure II ensures the best quality ever for a digital equalizer. The user interface also uses the A/B morphing system for presets allowing ultra fast and precise operation.
Pure Limiter II — Transparent limiting, dramatically increasing the average audio level can now be achieved without damaging the perceived audio quality.
The Mastering Pack for PC and Mac (VST/AU/RTAS/TDM) is available to purchase for 399 EUR until November 30, 2009 (regular price 579 EUR).
More information: Flux / Mastering Pack