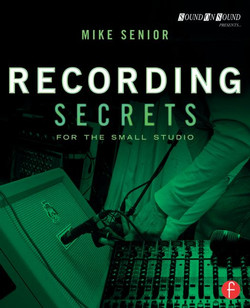 Focal Press has introduced Recording Secrets for the Small Studio, a book by Mike Senior, professional audio engineer and author of the bestselling book Mixing Secrets for the Small Studio.
Recording Secrets for the Small Studio is an intensive training course specifically designed for small-studio enthusiasts who want a fast track to release-quality results. Based on the backroom strategies of more than 200 famous names, this thorough and down-to-earth guide leads you through a logical sequence of practical tasks to build your live-room skills progressively from the ground up.

On the way, you'll unravel the mysteries of many specialist studio tactics and gain the confidence to tackle a full range of real-world recording situations. User-friendly explanations introduce technical concepts on a strictly need-to-know basis, while chapter summaries, assignments, and extensive online re-sources are perfect for school and college use.
Recording Secrets for the Small Studio features
Learn the fundamental principles of mic technique that you can apply in any recording scenario — and how to avoid those rookie mistakes that all too often compromise the sonics of lower-budget productions.
Explore advanced techniques which help industry insiders maintain their competitive edge even under the most adverse conditions: creative phase manipulation, improvised acoustics tweaks, inventive monitoring workarounds, subtle psychological tricks…
Find out where you don't need to spend money, as well as how to make a limited budget really count.
Make the best use of limited equipment and session time, especially in situations where you're engineering and producing single-handed.
Pick up tricks and tips from celebrated engineers and producers across the stylistic spectrum, including Steve Albini, Roy Thomas Baker, Joe Barresi, Tchad Blake, Bruce Botnick, Joe Chiccarelli, Neil Dorfsman, Jack Douglas, Geoff Emerick, Paul Epworth, and many, many more…
The book is available for purchase for $44.95 USD/£28.99 GBP.
More information: Focal Press / Recording Secrets for the Small Studio