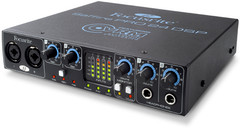 Focusrite has announced it is now shipping the Saffire PRO 24 DSP, a FireWire audio interface with real-time DSP-powered tracking and mixing solutions.
The Saffire PRO 24 DSP is built to the same specifications as the PRO 24, with two Focusrite mic pres heading up the 16 inputs and 8 outputs. PRO 24 DSP has an additional second headphone output to help you take advantage of Saffire PRO 24 DSP's unique monitoring feature.

The onboard DSP powers latency-free tracking tools such as Focusrite EQ and compression as well as comfort reverb. It also powers a groundbreaking new feature called VRM – or "Virtual Reference Monitoring". This is the first technology that allows you to mix effectively on headphones. It uses convolutions to simulate different monitors, rooms and listening positions through your headphones. Not everyone has access to expensive studio monitors and acoustically treated control rooms. VRM enables you to audition 10 different pairs of industry standard nearfield and main monitors from six listening positions in a treated room. In addition to this you can A/B your mixes with simulations of consumer stereo speakers, computer or television speakers from different positions in normal, untreated rooms.
Saffire PRO 24 DSP features
VRM Virtual Reference Monitoring – Hear your mix in different environments, through different speakers and from different positions, just using headphones.
Two High Quality Award-winning Focusrite Pre-amps – The best sounding interface in its class. Focusrite's unparalleled pre-amp legacy forms the foundation of this new interface, with two award-winning Focusrite pre-amps.
Onboard DSP-powered, latency-free tracking and mixing tools – Classic Focusrite EQ and Compression for tracking, as well as 'comfort' reverb to place across your monitor mixes.
High Quality 24-bit/96kHz FireWire Interface – Features high quality A-D / D-A conversion and JetPLL™ jitter elimination technology; pristine audio quality and reliable synchronisation are guaranteed.
Total I/O Count of 16 Inputs and 8 Outputs – A host of I/O options are provided, including a unique loop-back facility for routing audio between software applications via Saffire Mix Control.
Saffire Mix Control Zero-latency DSP Mixer/Router – Routing flexibility and intuitive one-click set-up solutions; Saffire Mix Control provides an 16 x 8 DSP mixer with excellent output routing and monitoring capabilities.
Xcite+ Software Bundle – Featuring a host of royalty-free loops and samples, a full-fledged Novation soft-synth and Ableton Live 7 Lite, providing an affordable upgrade path to Ableton Live.
Focusrite VST/AU Plug-in Suite, for use in the mix – Upgrade your standard sequencer effects and bring a touch of class to your session with all-new Focusrite Compression, Reverb, Gating and EQ VST/AU plug-ins.
Front panel 5-LED metering – LED metering for each of the analogue inputs offers accurate viewing of levels direct from the front fascia.
Two dedicated front-panel headphone busses – Providing two fully customised monitor mixes, with tactile level control available on the front panel.
Bus-powered for a tidy mobile recording rig – Saffire PRO 24 DSP can be powered via FireWire, or via its own power supply.
Saffire PRO 24 DSP is available for purchase for $399 USD (MAP).
More information: Focusrite