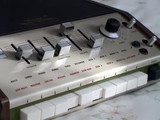 Forgotten Keys has released version 2 of its Univox SR-95 / Keio Minipops MP-7 Drum Machine sample pack.
Version two is a major update of the Kontakt instrument file.

There is now a built-in rhythm pattern player with all the original rhythms from both the Univox SR-95 and Keio minipops MP-7. Rhythms can be combined just like the real thing, in fact you are able to create combinations unavailable on the real thing due to the way the selector buttons were shared between two rhythms.

You can also mute instrument groups (of which there are eight) and add "Imperfections" like velocity and timing variations. Sound groups can now also be panned.
The Univox SR-95 / Keio Minipops MP-7 sample pack is available to purchase for £3.50 GBP.
More information: Forgotten Keys