Plugin Boutique is giving away the Producertech EQ Fundamentals video tutorial course with ANY purchase in December.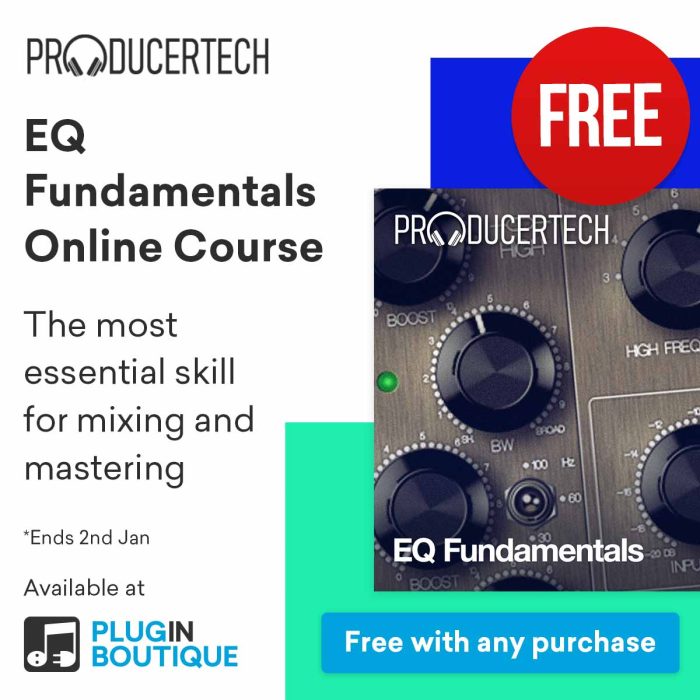 The course teaches you fundamental concepts of EQ frequencies with a detailed look at the frequency spectrum so you can master EQ for key instruments and apply EQ to your final mixes and masters.
Having a full understanding of the EQ process is paramount to developing professional mixes, and with its 10/10 Excellence rating from MusicTech magazine, ProducerTech's EQ Fundamentals course has established itself as a key certified guide for helping you garner the essential skills for applying EQ in your own mixing and mastering situations.

With 10 modules across 30 videos, certified trainer Rob Jones takes you through all areas of equalization. Starting with the initial concepts of frequencies, you will journey through a multitude of EQ techniques including EQ controls, frequency spectrums, EQ processes for different instruments and master channel EQ practices, among many more.

The course also comes fully packed with a collection of Practice Mixing Sessions, Audio Stems and DAW Projects for honing your skillset in context.
Every purchase from Plugin Boutique until January 2nd, 2020 proves you eligible for this free product (regular £19.95 GBP / $26 USD). Make sure to check out the many deals currently available and grab a bargain at the shop to qualify for this free product.
More information: Plugin Boutique