Michael Picher has released updated versions of two free sample libraries in SFZ format, featuring re-exported 48 kHz/24-bit samples for a less compressed sound.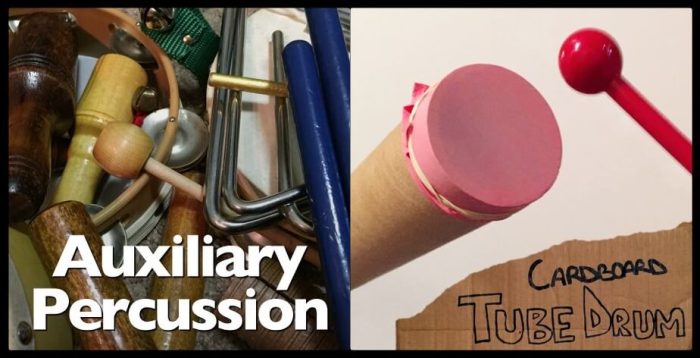 Auxiliary Percussion features a collection of odds and ends to expand your percussion section.
This collection includes 5 woodblocks, claves/sticks, 3 triangles, 2 tambourines, and 2 shakers.
The instrument comes with up to 4 round robins, natural releases (including the ability to dampen the triangles), and looped triangle rings as wells as tambourine and shaker shakes.
Cardboard Tube Drum offers the sounds of a percussion instrument made from a cardboard tube.
Initially inspired by the creative PVC percussion instruments used by the Blue Man group, I created this simple drum from a balloon and three cardboard poster tubes. The first two are taped together, while third tube, which is slightly thinner, slides in and out, producing different pitches.

To make playing easier, I mapped two groups of the same samples on the keyboard, so you can use both hands to make drumming more natural.
Cardboard Tube Drum features seamless transition from soft to loud dynamics, and also comes with up to 4 round robins.
Both libraries are available as a free download for Plogue's free Sforzando plugin for Mac or Windows. Make sure to check Michael's other sampled instruments, including pianos, Indian bells, synths, organs, and more.
More information: Michael Picher