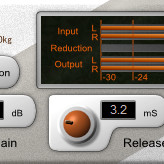 g200kg has released VeeMax, a maximizer effect plug-in with 'Inter Sample Peak' processing.
It will do maximizing process by not only digital value peaks, but also hiding peaks of inter samples.
VeeMax features
Gain controls the gain from input signals (0dB equals no maximization).
Release time of the gain reduction (mS).
OutCeiling controls the maximum output signal peak amplitude.
ISP (Inter Sample Peak) detection.
VeeMax for Windows (VST) is available as a free download.