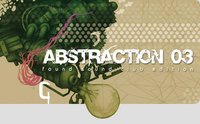 Galbanum has released Abstraction 03: Found Sound Club Edition, an eclectic all-you-can-eat buffet of domestic "found sound" purposefully polished, refined, and formated into rhythmic loop adders which are designed to spice up your percussive pallet and inject freshness into your grooves.
It's a cornucopia of pseudo organic glitch rhythms and real-world sampled eccentricism where any household sound – from the hand saw, to the power drill, to literally the kitchen sink – is fair game as a substitution for a normal drum machine.
Abstraction 03 features
1,792 new cutting edge files! 768 Loops plus 1024 single-hit abstract organic percussion samples. All files are 44.1K/24bit content. 750MB of uncompressed loops and 130MB of Single Hit Samples.
Loops available in Apple Loops, Acid Loops, or REX2 formats. All loops are 2 measures long and are designed to allow using partial segments of the full loop to give thousands of variations.
Single-hit samples are intelligently grouped into 32 instrument folders and named with MIDI note names to facilitate auto-key-mappings for supported samplers.
Abstraction 03 is available for direct download for $39.95 USD in any of these formats: Apple Loops, Acid Loops, REX Loops, and Single Hit Samples. You can purchase multiple formats at an additional $14.95 USD each.
Visit Galbanum for more information and audio demos.