Plugin Boutique has launched a sale on a Christmas 2018 3 for 3 Bundle, comprising three audio effect plugins: The King, SphereQuad and the Helper Series.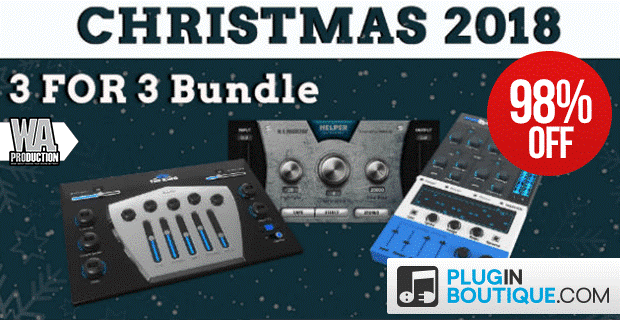 W. A. Production is in the spirit of giving this holiday. Offering you a complete package of audio plugins for mixing and mastering. We understand that nothing drains your bank account like holiday shopping. Leave your poor bank account alone. Grab the change out of your car, your couch, the pile on the table, and way in the back of your junk drawer. $3 is all it takes to add multiple effects, shape, E.Q., compress and have absolute tonal control as you finalize your mix to professional grade quality and clarity.

The Christmas 2018 3 for $3 bundle includes our greatest audio plugin creations designed for mixing and mastering. You'll get The King, a show-stopping multiband compressor, SphereQuad a limitless semi-modular multi-effects plugin and The Helper Series, featuring an E.Q, Saturator and Transient Shaper.
The bundle is on sale for only $3 USD until January 7th, 2019.
A purchase also includes a free copy of the What About Xmas 2018 Serum Presets pack, featuring bass, leads, plucks, sub bass, wobbles, growls and more for creating EDM, Synthwave, Future House, etc.
More information: W.A. Production