BAE Audio announces that Metallica has expanded its vintage channel count with BAE Audio preamps to facilitate great sound that is ready-to-go 24/7.
When Metallica and producer Greg Fidelman hunkered down to begin work on the legendary band's latest record, he knew he needed the flexibility to hop in and out of the band's studio and from instrument to instrument with ease. "They're really busy guys, so we wanted to have all of our sounds for drums, bass, and guitar set up all at once and leave them that way," Fidelman says. "That way they can get in there and cut a few takes without having to spend time dialing in sounds or breaking down mics each time."
He knew that the (30) channels of vintage preamps the band had already in the studio would not be enough to simultaneously facilitate the multi-mic drum sound and detailed guitar micing setups he was envisioning for the sessions. He turned to BAE Audio preamplifiers to nearly double his available inputs, matching the classic sound of Metallica's existing vintage gear with the added reliability of BAE's modern construction and components.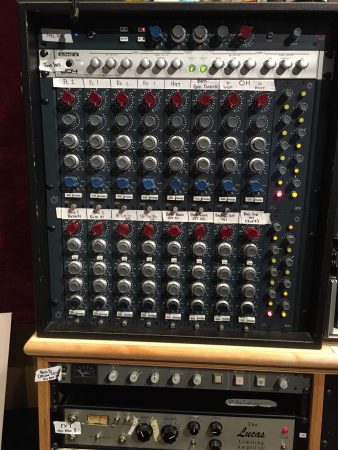 A New Classic
Fidelman had first worked with BAE Audio preamplifiers on a recent Slipknot record he was producing. "On that record we were working on a full vintage console but had to change studios halfway through recording to one with a more modern console," Fidelman recalls. "The band was concerned about retaining a consistent guitar sound so we took extensive notes of our mic placements and EQ settings and took snapshots of direct and reamped guitar to test in the new space. The new studio had a rack full of BAE 1073s and other BAE preamplifiers so we ran everything through those with our notated settings and A/B'd it with what we had done in the previous studio." Fidelman said the results were indistinguishable. "I think if anything our sounds were 5-10% better because of the new components in the BAE gear," he adds.
Fitting Right In with the Original
Fidelman's experience with BAE Audio gear on the Slipknot record gave him the confidence to recommend it for the Metallica sessions to expand their vintage input count. He procured (11) channels of the BAE Audio 1073 and (8) channels of the 1028 in a mix of module and standalone rack format. Fidelman opted for the mix of vintage and new vintage inputs over the studio's built-in modern console because of the unique qualities of the vintage circuit design.
"With the 1073, the way you can manipulate the bottom end is pretty unique, with the low-end boost and the filter working together," Fidelman says. "There's also a quality to the top end that's always musical. If you need a little extra you can really dig into it without it becoming harsh. And not just the high frequency boost/cut, but also the higher frequencies in the midrange band."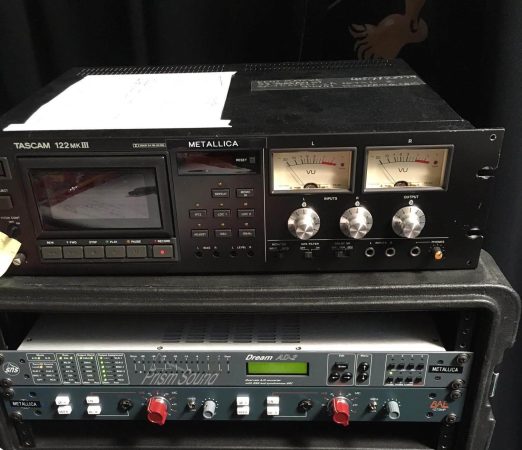 Fidelman notes that the midrange band is particularly key for articulating the top end of kick and snare drums. "It's pleasing with drums, you can boost what you want without the other garbage," he says. "To get the core guitar sounds for Metallica I'm sometimes routing a mic into the 1073 and then out into the direct input of another 1073 or 1028 to get access to another midrange or low end band for extra control." Fidelman appreciates the additional frequency selections provided by the 1028 on things like overheads. "You can dig in deeply with some of those additional frequencies to define the sound you're looking for," he says. "It provides the versatility I need."

Great Sound, Worry-Free
Though Fidelman says he "grew up" on vintage consoles and loves their sound, he acknowledges that working with older gear has its perils. "I was working at a studio in Hollywood recently with a (great) vintage desk, but even with the techs working through one or two modules every day, the reality was that stuff was failing faster than they could keep up with," Fidelman says. "BAE has nailed the sound and since you're not dealing with 30-year old contacts, dusty pots, and worn connectors it's way more reliable." Both preamps sport the same Carnhill/St Ives transformers specified in the original vintage circuit design and feature BAE's renowned hand-wired construction, conducted at their facility in California, enabling them to capture the vintage sound that has been the signature of many beloved recordings.

Ready to Rock, 24/7
Fidelman and the band's approach have proven fruitful over the course of the tracking sessions. "We began these sessions back in June and have been tracking bits and pieces as recently as two weeks ago," Fidelman says. "We never had to stop and reset things to switch instruments, and we've got consistent sound on every single channel, whether it's with our vintage channels or the BAE channels. We can hop from laying down Kirk's guitars to Lars's drums seamlessly and know we have sounds worthy of a Metallica record ready to go at all times."

Working in tandem with vintage and "new vintage" gear by BAE Audio, Fidelman has also kept a coherent and consistent sound on a record that's been in process for several months. "There are always interruptions when you're working on a high-profile record, but we were able to eliminate technical interruptions from the project with the consistency and reliability of BAE hardware, all without sacrificing that vintage sound that I love." BAE preamps are the new first choice for Fidelman. "I can't really tell the difference between BAE and the original."
More information: BAE Audio