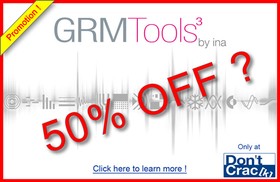 DontCrac[k] has announced a limited time promotion for GRM Tools, offering plugin bundles at a 50% discount.
If you are looking into something that can transform your audio or samples in a radical and original way, well here's something that might be of a great interest to you.

The highly acclaimed GRM Tools can really sculpt your audio recording like no other software can !

If you haven't had a close look at these plug-ins before, here's a great opportunity to do so as we're offering up to 50% OFF on all GRM Tools bundles including the Complete Collection.

For us at DontCrack, GRM Tools are amongst the most original and unexpected sounding effects we've had the pleasure to work with !

Please download them and give these incredible plug-ins a good try as they might change the way you think about enhancing your audio.
More information: DontCrac[k]