Hephaestus Sounds has released Concert Flute, an elegant and expressive Flute and Piccolo instrument library for Native Instruments Kontakt.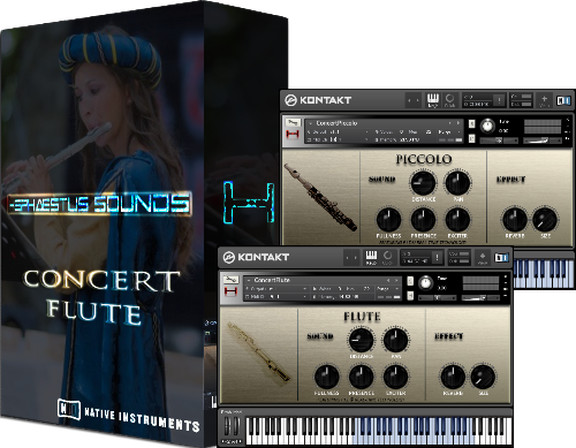 Enjoy the great sound of the Flute and the Piccolo taking all the benefits from the Hephaestus' Performer Intelligent Technology ©, that simulates the sound behavior of the real instrument.

Wanna play polyphonic? You just have to play polyphonic! Wanna play legato? You just have to play legato! Wanna play staccato? You just have to play staccato! And so on.
Concert Flute features
Contains 5 .NKI presets: Concert Flute, Concert Piccolo, Jazz Flute 1, Jazz Flute 2, Jazz Flute Duo.
48 KHz 24-bit Mono sample resolution.
3 dynamic layers, with a 4th extra layer for shout / flutter samples.
Real-time playing behavior with Hephaestus' P.I.T.©
Advanced legato system, different at different playing speeds.
Release samples with key noises.
Breath noise controlled by releasing the sustain pedal.
Fullness, Presence, Exciter functions managing the sound frequencies.
Distance and Pad knobs, moving the flute through the virtual sound field.
Convolution Reverb with an IR sample, managing Reverb level and Room size.
Compressed file size of 75 MB.
Works on Kontakt 5.2 or newer (15 mins only on Kontakt Player).
The library is available from Sampleism for £9.99 GBP.
Hephaestus Sounds has also released Oboe, Clean Guitar, Female Solo Voice, and Hang Drum, 4 free Kontakt libraries in celebration of the release of Concert Flute.
More information: Sampleism