HISS and a ROAR has announced a new sound fx library called Tortured Metal Cabinet, a 13GB collection of inspiring and unique high resolution sounds.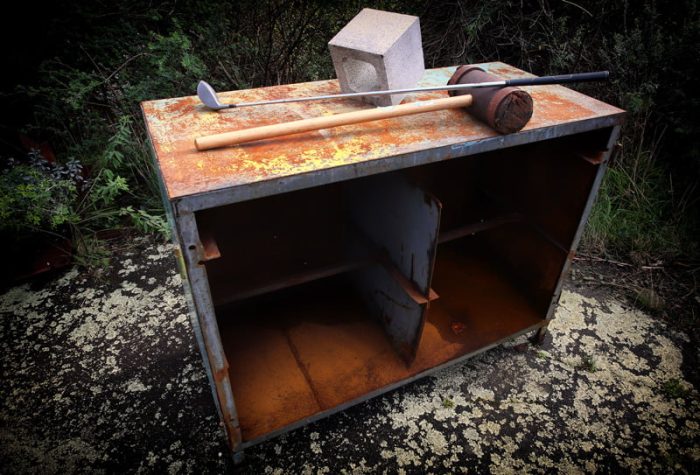 Like most sound designers I constantly keep an eye/ear out for unusual sounds, and when I saw this old cabinet on a neighbours trailer it only took one hit to appreciate its potential, in the realm of beautiful bass-heavy resonance… But it was only after negotiating access that the hard work began – the cabinet is made entirely of metal & weighs a ton!!

First we captured it in its original rattly state, pounding it with a sledgehammer, an axe, and various percussion mallets… Then we recorded breaking off the rattly parts and manipulating those, particularly the interior divider, eventually leaving a large scale prop with clean resonance.

We then focused on capturing more subtle sounds: using percussion mallets including a woollen mallet with very soft attack, friction mallets, a gong mallet… then louder sounds using a concrete block, and another session with the axe and sledgehammer.. Then followed two sessions with an angle grinder, performing grinds, moves and spin downs…

Lastly we experimented with Polyend Percussion Pro robot beaters, capturing sequences with speed ramps up to 999bpm as well as more erratic snare rushes on to hard metal and also dampened with a towel.
The sample library is available for $99 USD. Use coupon code REZ at checkout to save 33% off until July 29th, 2018.
More information: HISS and a ROAR