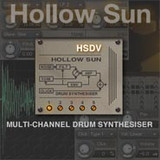 Hollow Sun has released HSDV, a unique new concept in electronic drum sample libraries.
Instead of static snapshot samples that are fixed and untweakable apart from, perhaps, tuning them, HSDV is a complete multi-channel, true drum synthesiser that gives you complete control over the sounds to shape and sculpt them as you want or need to create a massive diversity of vintage and modern and glitchy drum and percussion sounds and sound effects.

It is loosely modelled on the original Simmons SDSV where noise and tone (pitched oscillator) are balanced together and then shaped by a simple envelope but unlike the original, HSDV offers various noise types (white, pink and red), multi-mode (LP/BP/HP) resonant 2- and 4-pole filters for the noise, a choice of waveforms (sine, triangle 1, triangle 2 and square) for the tone oscillator. There are also a variety of different 'Click' sounds to mix into the attack of the sound for more 'punch'.
HSDV features
44k.1Hz / 24-bit.
Real-time control of every parameter (with MIDI 'Learn').
Choice of noise types and oscillator waves.
Multi-mode (LP/BP/HP) resonant 2- and 4-pole filters.
Factory presets and user presets for each 'module'.
Massive range of electronic drum and percussion sounds.
A proper drum synthesiser, not static drum samples.
HSDV for Kontakt is available to purchase for $40 USD.
More information: Hollow Sun / HSDV