Homegrown Sounds has released Astralis Bionic, a VST instrument plug-in for Windows PC.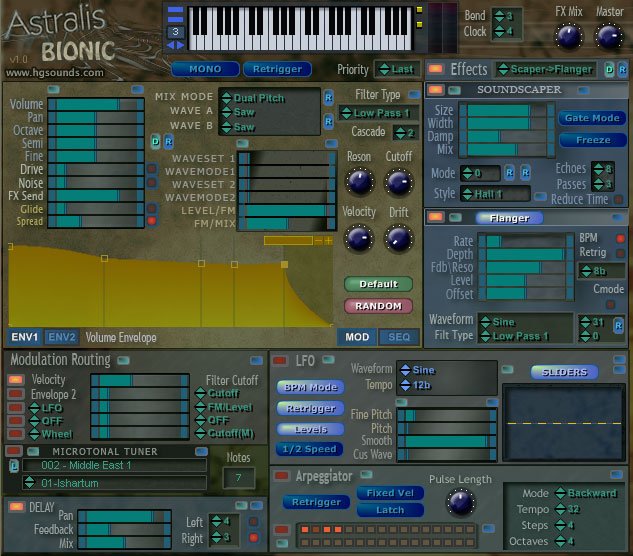 Like Baby Bion, Astralis Bionic is based around the Bion Oscillator and SoundScaper, but adds an Arpeggiator, Modulation Sequencer and Gate Sequencer(Trance Gate). As a result it is capable of everything Baby Bion does with the addition of complex Tempo synced Rhythms. It uses slightly more CPU than Baby Bion but is still a lightweight Synth considering its features. The uniquely developed Dual Oscillator provides over 3500 different waveforms which can be mixed in many flexible ways including FM, giving many more possibilities. The Oscillator and Filter code has been highly optimized for excellent performance using SSE instructions where possible.
Astralis Bionic features
Dual Oscillator – The Oscillator provides 2 waveforms which can be mixed using on of the many modes which includes A+B, A-B, Various FM Modes, Dual Pitch, Split and Distorted.
Filter – Cascadable up to 8 times and includes Low Passes, Hi Passes, Band Passes, Comb, Low Shelf, Hi Shelf and Peak.
32 Stage Envelopes – Capable of Repeating Sections, One Envelope is for volume and the second is for the Filter and general purpose, assigned via the Modulation Routing.
Drive – Auto Volume Distortion
Arpeggiator – With many modes include classic Arp modes, and additionally a voice muter for skipping selected pulse.
LFO – Uniquely Developed LFO with standard Shapes, plus custom shapes with Smooth Control.
Microtuner – Microtuner uses most standard Scala files of any size for custom tunings
Modulation Sequencer – Used via the Modulation Routing to effect any destination
Gate Sequencer/Trance Gate – Can be used on both Envelopes
SoundScaper – Comb / Delay / Reverb Effect for creating interesting soundscapes.
Flanger/Filter – Switchable between Flanger and Filter effect, LFO has over 300 predefined shapes with smooth control as well as standard shapes.
Stereo BPM based Delay – Synced delay.
FX Routing – 3 different Paths available.
Modulation Routing – Multiple options for assigning Modulators to Destinations.
Stereo Spread – Allows setting a random value to the Pan of each voice.
Astralis Bionic is available for £15 GBP. It is also available as part of the Astralis Pack.
Visit Homegrown Sounds for more information and audio demos.