Homegrown Sounds has announced the release of Density, a multi-layer/timbral synthesizer for Native Instruments Kontakt.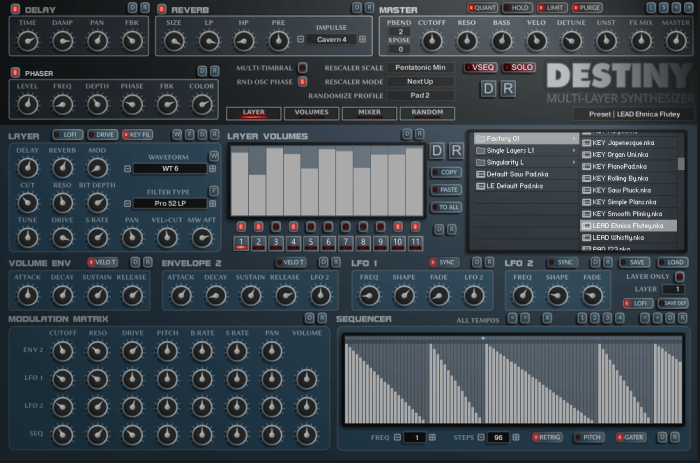 Destiny features 11 Layers each of which contains a Singularity Synth which is also included as a 2nd Synth. The Layers can either be stacked into a Multi Layer Synth or used as a Multi-Timbral Sound Module. Each Synth has 2 Envelopes, 2 LFOs, a Sequencer which are assigned to Destinations via a Modulation Matrix.
Density features
11 Synth Layers which can be used simultaneously or as a multi-timbral sound module.
Each layer contains a full Singularity Synth.
Mixer Panel which allows control over all layers from a global perspective.
Sophisticated Randomize Profiler.
Global, Layer and Local Randomizers.
Internal Preset System that loads and saves.
Ability to load single layers from presets.
Volume Level real-time triggers with sequencer.
Effects section with reverb, delay and Modulator.
Requires Kontakt 5.7 or higher, full version.
Density is on sale for $19.99 USD (regular $49.99 USD). It is also part of the Augment Group Buy, and will be unlocked when the group buy reaches 200 members.
Augment is a multi-layer rhythmic synthesizer.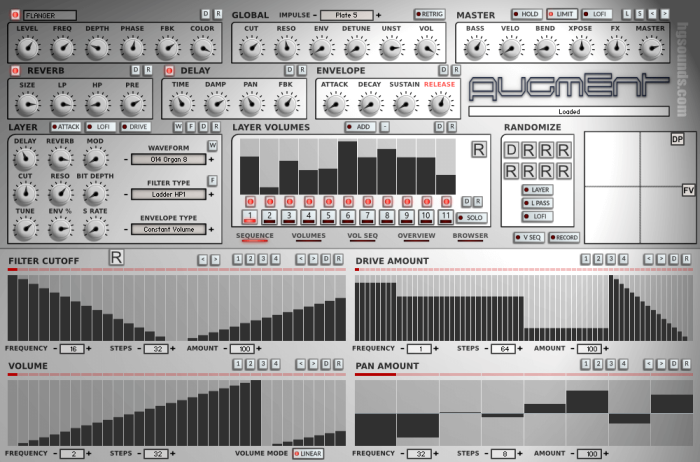 Augment began with the idea that it would be interesting to use Sequencers to manipulate Additive Partials in a rhythmic way, but it soon became apparent that it would be a much more interesting instrument using other waveforms as a huge 11 Layer Synthesizer.

As a result Augment retains the additive mode but also uses 200 Waveforms which can be freely selected for each layer. The Waveforms are along the lines of PCM Synths of the past which have an Attack Section and a looped constant tone which works well as it allows the sounds to be more focused on Synthesis rather than sampling. The Attack Section can be disabled per Layer so they become pure tones.
You can take part in the Augment Group Buy for just $14.99 USD.
Furthermore, Homegrown Sounds has launched Singularity Lite, a fully fledged single oscillator synthesizer which uses raw waveforms as the oscillator.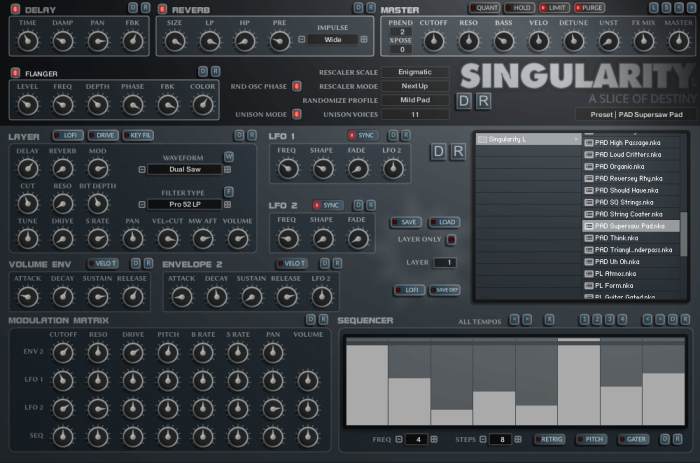 It has 2 Envelopes, 2 tempo clocked LFOs and a Sequencer which are all assigned through an extensive Modulation Matrix. Although Singularity is a single layer of Destiny, it still uses the 11 Layers as a Unison mode and so is good for Supersaw type sounds. All Presets can also be loaded into Destiny and vice versa.

There is also a version of Singularity that is included with Destiny, the only difference is that Singularity Lite uses a reduced number of Waveforms. Best of all, it's free!
More information: Homegrown Sounds