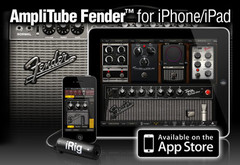 IK Multimedia has announced that its AmpliTube Fender apps for iPhone, iPod touch and iPad are now available for download from the iTunes App store.
Designed and developed in close cooperation with Fender Musical Instruments Corporation, AmpliTube Fender™ is a full featured recording studio, guitar amp and FX rig offering the legendary Fender™ tone.
AmpliTube Fender features
Real time guitar mobile multiFX + recording and practicing app.
Full rig with 3 stompboxes (iPhone)/4 (iPad) + amp with effects + cabinet + mic.
6 Fender™ Stomps — Fender™ Phaser, Fender™ Blender™, Tape Delay, Overdrive, Compressor (by registering) and Noise Filter.
5 Fender™ Amps with matching Cabinets — '65 Deluxe Reverb™, '65 Twin Reverb™, '59 Bassman™ LTD, Super-Sonic™ and Pro Junior™.
2 Microphone models, dynamic and condenser.
Single track recorder (with re-amping) expandable to full 4 track (iPhone)/8 track (iPad) recording studio with master effects through in-app purchase.
Import and play up to 50 songs/backing tracks directly from your iPod library on your device or from your computer.
Ultra-realistic tones derived from the AmpliTube Fender Mac/PC studio.
Slow down or speed up the tempo (-50% to +200%) of imported songswithout affecting their pitch.
36 presets can be saved/named/recalled on the fly.
Includes tuner and metronome.
Low-latency for real time playing.
FREE version also available – can be expanded by individual gear model purchases, or bundle purchase via the in-app purchase feature.
Can be incorporated into the AmpliTube 2 for iPhone/iPad app via in-app purchase.
The AmpliTube Fender apps for iPhone and iPad are currently available from the iTunes App Store, and cost $14.99 USD / 11.99 EUR each. Free versions are also available for iPhone and iPad, both expandable with the individual amps and effects a-la-carte through in-app purchases.
The 4-track recorder and 8-track recorder with master effects' sections on the iPhone and iPad cost $9.99 USD / 7.99 EUR and $14.99 USD / 11.99 EUR respectively as in-app purchases. AmpliTube 2 for iPhone/iPad users are able to add AmpliTube Fender™ stomp box and amplifier models as individual in-app purchases for only $4.99 USD / 3.99 EUR per amp, $2.99 USD / 2.39 EUR per stomp box, or $14.99 USD / 11.99 EUR for the entire collection of models.
More information: IK Multimedia