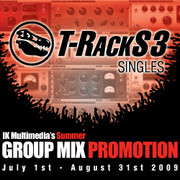 IK Multimedia has announced the Group Mix Promotion.
From the IK Multimedia website:
From July 1st to August 31st 2009 when you participate in our summer Group Mix Promotion, you'll immediately get two T-RackS 3 Single plug-ins for the price of one.

Then, if 500 people participate in the promotion, you'll get another FREE T-RackS Single plug-in. If 1,000 people participate, you'll get one more.

That's a grand total of 4 T-RackS Singles Plugins for only $99.99/€74.99, an unbelievable value!
How it works
Buy one T-RackS 3 Single, Get one FREE! Buy a T-RackS 3 Single plug-in from an authorized IK Multimedia Retailer, or from our online store, and register it in your User Area. You will be immediately entitled to download a 2nd T-RackS 3 Single plug-in of your choice FREE from your IK User Area. But wait! It gets even better… Keep reading…
Once 500 users take advantage of this promotion and register their T-RackS 3 Single Plug-ins, we will give out a 3rd T-RackS 3 Single plug-in of your choice for FREE to every participant! You will be able to check the daily number of registered users looking at the above progress bar. But wait! There's even more!
If 1,000 users join the Group Mix promotion and register, we are going to give out a 4th T-RackS 3 Single Plug-in to all participants! Once we get to the 1,000 participant level, you'll be getting 4 of the hottest mixing and mastering plug-ins in the industry for as low as $25/€20 each. That's insane!
More information: IK Multimedia