IK Multimedia has announced that it is giving its newsletter subscribers the Syntronik Memory-V virtual synth instrument library for free for a limited time.
Memory-V comes with over 6,000 samples, 148 instrument presets and 4 multis.
We love our IK family and we want to spread some holiday cheer! That's why we are giving all of our new and existing newsletter subscribers the Memory-V instrument for Syntronik for free from December 16 through the 30th.

Syntronik Memory-V is our take on the classic 18-oscillator monster analog polysynth Memorymoog. Manufactured from 1981 to 1985, it's often described as six Minimoogs in one unit! Its timbral palette is nothing short of impressive, capable of producing a huge variety of sounds including strings, brasses, pads, flutes as well as more percussive sounds.
The offer is valid through December 30th, 2020.
IK has also announced the addition of more software to the Happy Holideals promotion.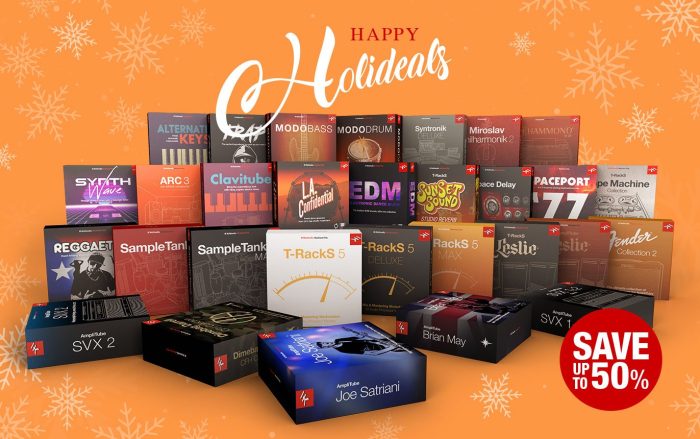 The holiday spirit is still going even stronger, and we've decided to include more of our most popular and powerful music creation software in our Happy Holideals promotion. From now through January 4th 2021, SampleTank 4 MAX, SampleTank 4, T-RackS 5 MAX, T-RackS 5 Deluxe, and T-RackS 5 have been added to the ongoing Happy Holideals for up to 50% off MSRP.
The new additions join previously announced deals on Syntronik, Miroslav Philharmonik 2, MODO BASS, MODO DRUM, AmpliTube SVX 2, Fender Collection 2, ARC 3, Spaceport 77, Hammond B-3X, T-RackS Tape Machine Collection, T-RackS Leslie,
Dimebag Darrell CFH Collection for AmpliTube, and more.
More information: IK Multimedia