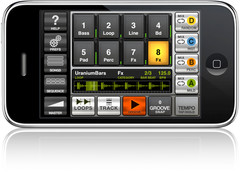 IK Multimedia has released GrooveMaker for iPhone/iPod Touch.
With GrooveMaker you now have access to a completely new way of making music with audio loops. Thanks to our patented "groove generator" technology you can automatically remix the included loops in virtually limitless ways, with one touch.

Everything in GrooveMaker is done in real-time, without ever having to stop the music. It's like working with a real instrument! You can add, remove, and replace single or multiple loops as you listen, so there's no stopping your creative flow. Remixing is a breeze and a totally new experience. The composition is as easy as drag and drop and puts you at the controls of the music.
GrooveMaker for iPhone/iPod Touch features
Instantaneous control over 8 stereo loop tracks.
Massive loop library of drums, bass, bass-drums, lines, pads, percussion, effects included.
Play, Mix and Randomize loops on the fly.
Combine studio-quality loops to produce a million possible grooves.
Manipulate loops in real time (pan, volume, mute, solo, group, tempo).
Arrange grooves easily with drag and drop to create full-length tracks.
Save, preview and recall your mixed tracks.
Upload your tracks as hi-quality WAV file to your Mac/PC (Wi-Fi network required).
Interactive Help feature allows for quick learning, simply follow the indicated steps.
Currently there are 4 GrooveMaker applications available (4 more to come soon for every dance music style).
GrooveMaker FREE, House and Hip-Hop styles, 125 loops included (78-125 BPM)
GrooveMaker Club, 189 loops included (130-135-145 BPM), $4.99/€3.99
GrooveMaker Hip-Hop, 315 loops included (80-85-90-100 BPM), $9.99/€7.99
GrooveMaker House, 315 loops included (120-123-125-127 BPM) $9.99/€7.99
The GrooveMaker applications are available from the Apple iTunes App Store.
More information: IK Multimedia