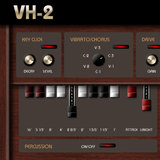 Iliadis has released VH-2, a virtual drawbar organ VST instrument plug-in for Windows PC.
The VH-2 Organ simulates a Drawbar Organ and a Transistor Organ. The Sound of it is something between Hammond's Electromagnetic Organ, Yamaha's Electone of the 70's and other Analog Organs. Vox, Farfisa and other Transistor Organs. 9 Standard Drawbars and 9 Percussion Drawbars, the Classical Vibrato Scanner and the Stereo Rotary Simulation can make the VH-2 sound very interesting.
VH-2 features
64 notes polyphony.
9 "standard" drawbars with 2 organ types (Sine Organ, Transistor Organ), adjustable Attack and Sustain with 2 red drawbars.
9 percussion drawbars with the "standard" harmonics, adjustable attack and length with 2 red drawbars.
Key click imitation, adjustable decay and level.
Vibrato/Chorus Virtual Scanner (V-1, C-1, V-2, C-2, V-3, C-3).
Tube overdrive simulation, adjustable gain.
Stereo rotary speaker simulation.
Adjustable master tone, tune, reverb (studio type) and level.
128 presets available.
Modern GUI.
Low CPU consumption.
VH-2 is available as a donationware VST instrument for Windows. A demo version is available for download from the product page (limited to 10 presets + noise burst). A donation of 15 EUR or more will get you the full version.
More information: Iliadis