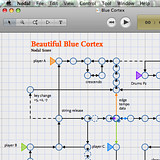 Nodal, the generative software application for composing music, has been updated to version 1.1 beta.
Since its release about two years ago, the generative music software Nodal has attracted much interest (it is featured in this April's Computer Music magazine) and has an enthusiastic following. It has now been released on both OSX and Windows platforms and is currently available for free. It is expected that significant developments to the software will be made this year and the development team is hoping to be able to make a number of updated releases during this time.
Changes in Nodal v1.1 beta
Nodal is now cross-platform, working on both Mac OS X and Microsoft Windows platforms.
Nodal files can be freely interchanged between operating systems.
Redesigned user interface.
New keyboard shortcuts, including the use of the spacebar to start and stop playback.
Direct access to internal MIDI synths (Windows version only) so no external MIDI synth software is required.
Here's a live performance of music created by Peter Mcilwain using Nodal 1.1.
Note from the developers:
It is important for further development that we know how many people are using the software and what features they would like to see developed. For this reason, we encourage you to register Nodal so we can keep you informed of updates as they are made available. Your registration information will not be used for any other purposes. A registration screen will be displayed the first time you run Nodal.
Nodal v1.1 beta is available for download for Windows and Mac here.
More information: Nodal