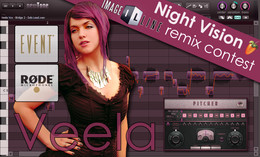 Image-Line has announced the Night Vision remix contest, a chance to win various prizes.
Welcome to the Night Vision remix contest. In association with FL Studio singer/songwriter Veela and our friends at RØDE microphones & Event Electronics we are excited to bring you our most awesome remix competition ever!
Night Vision remix contest prizes
1st – A pair of Event 20/20BAS monitor speakers (valued at $1099) + 500 USD Cash + any 3 Image-Line plugins.
2nd – A RØDE NT1-A kit (valued at $299) + 250 USD Cash + any 2 Image-Line plugins.
3rd – 150 USD Cash + any Image-Line plugin.
The contest is open for all registered Image-Line users.
The contest rules state you must use FL Studio AND the plugin Newtone AND OR Pitcher in the production of the remix. Registered FL Studio users can still buy the Newtone/Pitcher plugin bundle for a 'Pay what you think they're worth' price (minimum of $12 USD) for a limited time.
The competition closes May 27th, 2011.
More information: Image-Line