Impact Soundworks has announced the release of Peak Rider, a plugin that offers a powerful new approach to creative dynamics processing that can be used for subtle to extreme mixing, and even creating new parts altogether.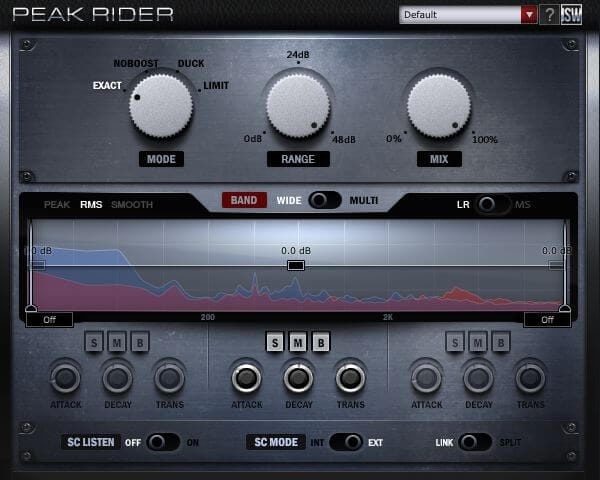 It works by analyzing the peaks (volume) of a sidechain signal and generating a new envelope in real-time for a main input. This allows the main input to 'ride' the sidechain with no latency and sample-accurate precision.

Using PEAK RIDER, there are many creative possibilities: taking a flat, lifeless bass part and matching it to a drum groove, restoring dynamics to an over-compressed or distorted track, matching harmony vocals to a lead, creating a rhythmic pattern in a pad sound, fattening instruments while preserving dynamic range, and much more.

The plugin includes both single and multi-band processing modes with both minimum and linear-phase filters, per-band envelope shaping controls, four analysis modes including an inverted 'duck' mode, multiple stereo analysis & processing modes, and an adjustable spectral / waveform display among other useful features.
Peak Rider features
Novel new approach to dynamic processing.
Wideband and multiband.
Zero-latency analysis with linear phase option.
Four processing modes available.
Three analysis & detection modes.
Fine control over envelope shaping.
Left/right and mid/side stereo processing.
Simple one-time serial number activation.
PC VST (32/64bit), Mac VST / AU formats.
Peak Rider is available for the introductory price of $79 USD (MSRP $99 USD).
More information: Impact Soundworks / Peak Rider