Impact Soundworks has launched a new entry in its Ventus Winds series of virtual instruments. Duduk features the haunting, mysterious sound of the Armenian duduk, more playable and expressive than ever before.
The library is the debut of the Agility engine for smooth legato playing, poly legato, harmonization, and much more. It includes over 12 playing techniques and more than 700 pre-recorded phrases.
Like other Ventus instruments, the Duduk includes a wide range of key articulations, ornaments, release noises, and legato transitions, as well as over 700 phrases of different styles and lengths.

We're also debuting a brand new script and UI for this release – the Agility engine – featuring poly legato, harmonization, scale locking and other powerful features for composers!

This is a fantastic instrument for film, TV, and game composers, as well as artists creating world, ambient, New Age, and meditative music. The mellow yet mysterious sound of the duduk is among our favorite instruments.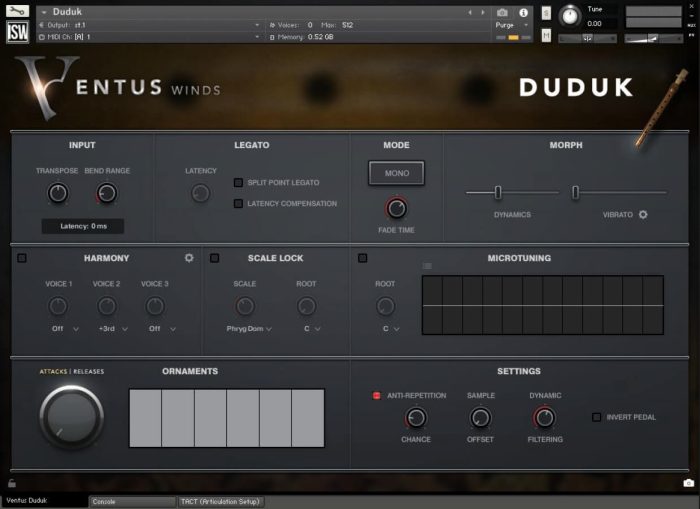 Ventus Winds Duduk features
Recorded through warm ribbon & room mics.
Non-vibrato and vibrato sustains.
11 core articulations including ornaments.
5 release articulations.
True legato and portamento transitions.
Over 700 phrases. multiple lengths & styles.
Phrases also provided as WAV.
Beautiful unified AGILITY interface.
Dozens of under-the-hood tweaking controls.
Fluid, seamless transitions, legato and morphs.
Phrase playback editor.
CONSOLE modular mixer with over 30 FX modules.
TACT 2.0 for totally custom articulation mapping.
Duduk is available for $99 USD. The NKS-compatible library runs in Kontakt and the free Kontakt Player version 5.7 or higher. Owners of previous Ventus instruments should check their Account area for a crossgrade coupon.
More information: Impact Soundworks