Impact Soundworks has announced the release of Vocalisa: Slavic Women's Choir, a virtual instrument library for Native Instruments Kontakt.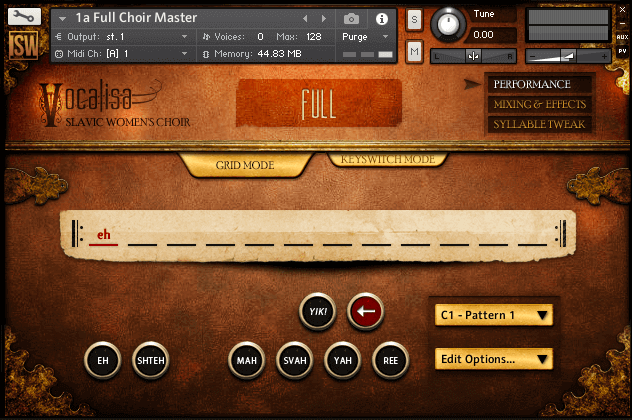 Vocalisa features the traditional vocal ensemble sound of Bulgaria and other Slavic regions, as popularized in albums such as "Le Mystere des Voix Bulgares" and soundtracks like "Xena: Warrior Princess". The library is available for special introductory pricing through June 30, 2014.

The choir of Vocalisa is provided in multiple section sizes: full choir, altos, sopranos, mezzos, and soloist, with independent patches and controls for each. The library offers a selection of the most frequently-used syllables, ornaments, and vocal effects in this style of music, along with dynamics ranging from the quietest sotto voce pianissimo to the loud, brassy fortissimo that Slavic choirs are known for.

Impact Soundworks was founded in 2007 by award-winning composers Andrew Aversa and Wilbert Roget, II with the goal of creating innovative, affordable and unique sample libraries "designed with composers in mind." Impact Soundworks instruments and libraries can be heard on countless blockbuster film, video game, and television scores.

"Ever since hearing 'Le Mystere des Voix Bulgares', I've fallen in love with Slavic music," said Roget, lead designer of the library. "To properly capture that sound and present it in a virtual instrument has taken over three years, but the result has been well-worth it!"

In addition to multiple section sizes and articulations, Vocalisa includes two intuitive playing modes: a "grid mode" allows for manual programming of syllables in patterns that can be saved or loaded as presets, while the "keyswitch mode" provides a method of playing and triggering any syllable or ornament in real-time. The inspiring user interface of Vocalisa also comprises built-in effects, individual syllable tweaking and offsets, and mixing tools.

"Our goal with Vocalisa was to create something both authentic and flexible. It's equally well-suited to both traditional Slavic music, and hybrid cinematic cues with dense layering," said Roget, "Or anything in-between. With all of the editing options available and both playback modes, you can customize the library to your tastes and personal style."
Vocalisa: Slavic Women's Choir is available for the introductory price of $99 USD until June 30th, 2014 (regular $129).
More information: Impact Soundworks / Vocalisa: Slavic Women's Choir