Inouï Samples has announced the release of Harmonic Triangles, a Kontakt instrument library that offers the sounds of 4 triangles recorded with various playing techniques.
Harmonic Triangles gives you the choice between natural sounds with indefinite pitch, the same triangles with definite pitch sounds and even minor triangles.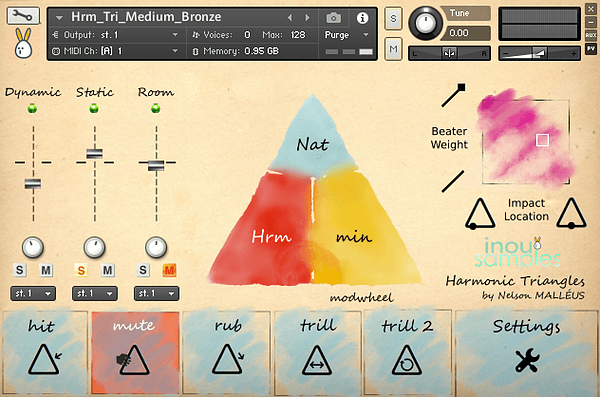 As a result of acoustic experiments, inouï samples samples founded a way to transform indefinite pitch instruments into definite pitch instruments while maintaining the sound integrity for Harmonic Triangles.

From recording to sound design, inouï samples offers you with Harmonic Triangles a product made with the same sense of detail and precision that it has shown since its first release Very Close Piano.

Triangle is out of tune? A lack of homogeneity in your high-pitched instruments? You can finally make disappear all the problems which used to come with the triangle through the innovations brought by Harmonic Triangles.
Harmonic Triangles features
1,250+ samples, 48kHz / 24 bits (scaled from 96kHz).
4 triangles in three modes: Nat (natural), Hrm (harmonic), min (minor).
5 techniques: Hit (control the beater weight and the impact location), Mute, Rub, Trill 1 (trill on 2 sides, using mod wheel crossfade), Trill 2 (circular trill on 3 sides, using mod wheel crossfade).
3 to 5 velocity layers depending on techniques.
XY pad to control the beater weight and the impact location for Hit technique.
3 microphone positions: Dynamic (mono), Static (mono), Room (stereo).
A mixing console with the following setting for each microphone position: Volume, Panoramic, Solo / Mute, Load / unload samples, Output selection.
ADSR envelope.
Humanize option including round-robins for Mute and Rub techniques and aleatoric options for Hit technique.
Requires the full version of Kontakt 5.7.3 or higher.
Harmonic Triangles is available for the intro price of 38 EUR until June 21th (regular 50 EUR).
A lite version with a single triangle (Large Silver) is also available. It is 19 EUR during the intro sale (regular 25 EUR).
More information: Inouï Samples