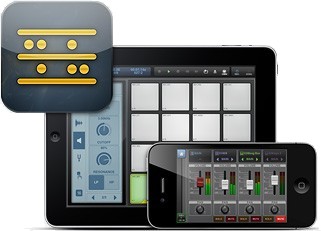 Intua has released version 2.4 of the BeatMaker music app for iOS.
Combining music production tools that were behind the success of countless artists, BeatMaker 2 is a powerful, easy-to-use composition interface for amateurs and professionals alike.
Changes in BeatMaker v2.4
Stereo bus recording on audio tracks.
Four audio sends available per mixer tracks.
New 6-band parametric equalizer (LPF, low shelf, band-pass, peak, notch, high shelf, HPF).
New side-chain option in compressor effect.
Double-tapping track handles in sequencer brings instrument/audio track configuration.
iPhone 5 compatibility.
UI and engine improvements.
Time-stretch and pitch-shift quality/settings have been improved.
Ability to zoom vertically in the sequencer.
Faster graphic rendering on iPad 3 with iOS 6.x installed.
Improve virtual MIDI.
Updated Dropbox SDK to 1.3.2.
Fix a bug in empty keyboard sampler when LFO settings were changed.
Dropbox will now work when background mode is disabled.
Fix file transfer lock issue on iOS 6.
Fix handling of incoming "packed" MIDI data (Genome MIDI sequencer, etc.)
The app is available to purchase for $19.99 USD.