IrcamLAB has announced an update to the TS2 software that can edit, transform, time-stretch and manipulate audio files.
A major feature and compatibility update, version 2.2 includes multichannel support and a new Spectral Clipping creative effect.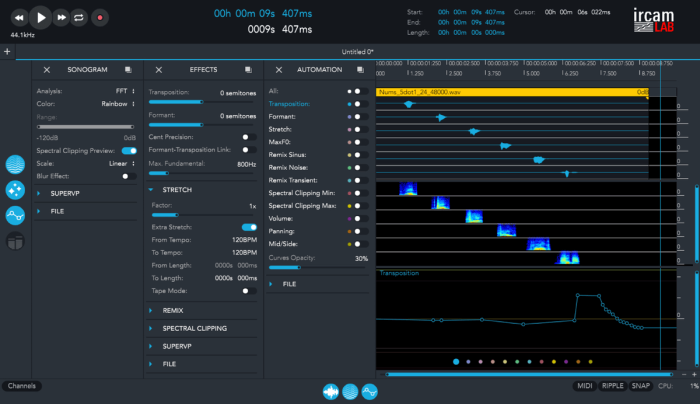 Spectral clipping is a dynamic filtering effect that performs an energy clipping process on the signal, retaining the spectral component corresponding to a specified energy range. This energy range is defined by a minimum and a maximum value in decibels. Any spectral component with an energy below the minimum threshold is muted and the energy of the spectral components is clipped by the maximum threshold.

The spectral clipping effect is a creative tool, between a distortion and a musical filter effect. Experimentation is a good way to discover the new sonic territories offered by this process (for example; on drums, guitars, vocals, etc).
Changes in TS2 v2.2
Multichannel support (up-to 256 channels).
Individual mono channel audio export option.
Spectral clipping effect.
Notarized support for macOS Big Sur (Intel, and M1 under Rosetta 2).
Improved sonogram analysis and rendering.
Removed sonogram color map dropdown menu at the bottom of the application.
Harmonised toggle buttons.
Improved label positions for two value sliders.
Replaced automation "slots" name with "nodes".
Replaced "Hertz" units display with "kHertz".
Improved visibility of master meter text display.
Fixed: Graphical issue when clicking "From Tempo" button in effects panel.
ircamLAB TS2 for Windows and macOS is available for $99 USD until May 31st, 2021 (list price $249 USD).
More information: IrcamLAB