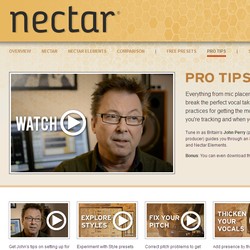 iZotope has presented John Perry's 8 part Vocal Master Class featuring both Nectar and Nectar Elements.
John Perry knows a thing or two about vocals. He sang with The Beatles on Hey Jude, and as a support singer, he has worked with Kiki Dee and Elton John, Roger Daltry of The Who, Leo Sayer, Elkie Brooks, Al Stewart, and many others. He knows that everything from mic placement to reverb settings can make or break the perfect vocal take. To get the best results, John likes to work with Nectar and Nectar Elements.
He now shares his knowlegde about best practices for getting the most out of your vocals. The 8 part Vocal Master Class at http://izotope.com/products/audio/nectar/protips.asp is the latest addition to iZotope's Pro Tips.