iZotope has announced the release of Stutter Edit 2, an update to the plugin that lets you create the famous "stutter" editing effect with one button to slice and dice your samples, tracks, and mixes.
Redesigned and reimagined for the demands of the modern workflow, Stutter Edit 2 comes with a new Auto Mode, updated UI, and new effects modules to add movement to your mix.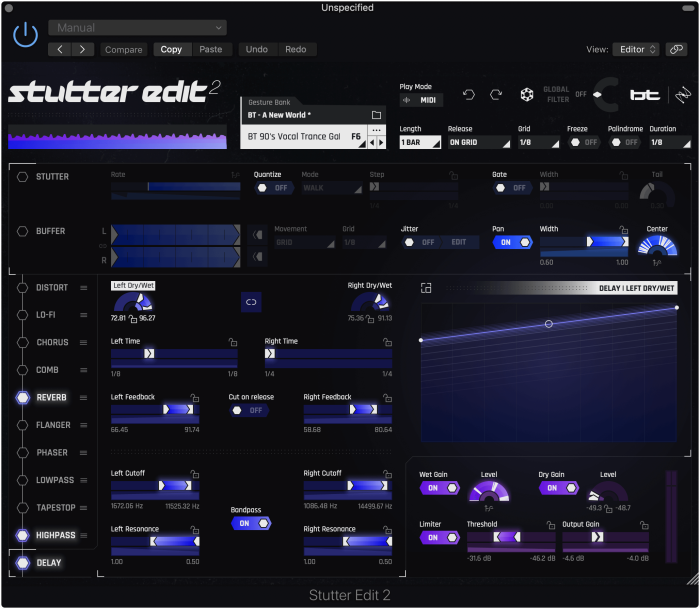 The unique Stutter Edit 2 effect plays back with your session, allowing you to trigger a "gesture" with a MIDI keyboard, or use the new Auto mode.
In Auto mode, your Gestures will play back automatically so you can concentrate on fine tuning your sound. If you'd rather use a keyboard for a live-performance feel, Stutter Edit 2 will guide you with a help system that detects your DAW and offers step-by-step instructions.

From simple trap patterns, cinematic sweeps, transitions, and everything in between, Stutter Edit 2 comes is full of new Gestures (presets) designed by BT and iZotope's expert sound design team. Use Auto mode to audition Gestures to find the perfect match, and plug in your MIDI controller to automatically map gestures to your keys to fire off any combination of Gestures.

Add color and vibe to your gestures with a suite of colorful effects modules, including brand new effects like Reverb and Chorus. Set a Range for any parameter and Stutter Edit 2 will "move" that effect along with the Gesture. Add even more craziness using the new Time-Variant Modifiers—make your reverb tails sweep, your gates and pans pump, and your distortion disintegrate in time with your stutter edit. Effects can be bypassed and rearranged in any order, creating limitless possibilities for sonic madness.
Changes in Stutter Edit 2
Auto Mode lets you trigger gestures instantly with one button. You can also use a MIDI keyboard to tell Stutter Edit 2 when to trigger, letting you "perform" your effects like an instrument.
Hundreds of new Gestures (presets) designed by BT and iZotope.
The Bank system organizes gestures into different use cases, so you can easily find the right gesture for your production.
Time-Variant Modifiers can be added to any parameter to control how and where within the range the effect plays back.
New Output section with dry/wet controls, output gain, and a flexible, colorful Limiter.
Expanded Distort module adds grit, grime, or shifting combinations of the two. A new multi-band mode unlocks more creative options.
Improved Lo-Fi module gives you mind-melting bitcrushing and undersampling effects, key to creating the famous "glitch" sound.
Chorus module to add artificial depth and thicken your sound.
Reverb module, a recreation of a reverb from BT's personal collection.
Comb module introduces a unique, ringing filter sound similar to a chorus.
Flanger & Phaser add psychedelic energy to your stutter edits.
Tapestop slowdown effect from the turntable era.
Flexible Delay module can move in time with your gesture.
Stutter Edit 2 is available now from iZotope and distributor Plugin Boutique, priced $199 USD.
It is also included in Creative Suite 2, which is on sale for $299 USD (regular $399 USD).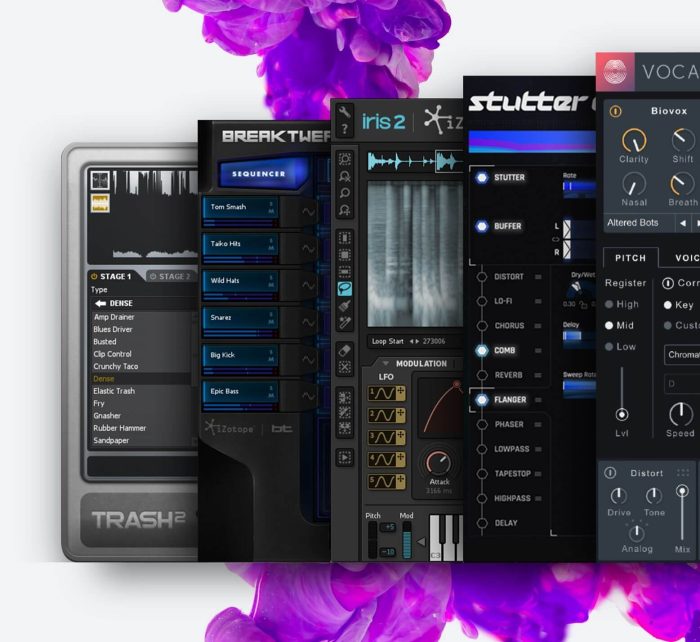 The iZotope Creative Suite features five innovative and inspiring software tools to invigorate your music productions and help them stand out: Stutter Edit 2, VocalSynth 2, Iris 2, Trash 2 Expanded, BreakTweaker Expanded.

This unique collection of creative products is designed to inspire, elevate, and aid exploration in your music. Make beats, design synths, add texture, and find your sound with the iZotope Creative Suite.
Upgrades are available to owners of Stutter Edit and Creative Suite.
A purchase at Plugin Boutique also includes a free copy of the entropy:EQ+ by sonible through June 30th, 2020.
More information: iZotope