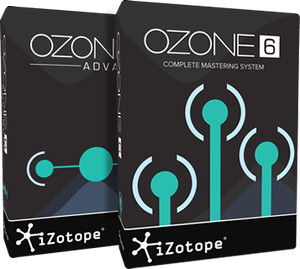 iZotope has released Ozone 6, the latest version of the creative mastering suite for Windows and Mac.
Elevate a good-sounding mix to a professional-sounding master with Ozone. iZotope's critically acclaimed mastering software has all the tools you need to produce a full and polished sound.

With a striking new interface and a modern workflow, Ozone 6 both guides and inspires your creativity at every step.

The Advanced version of Ozone 6 includes a powerful new Dynamic EQ that lives and breathes with your music, as well as eight component plug-ins and a suite of configurable meters.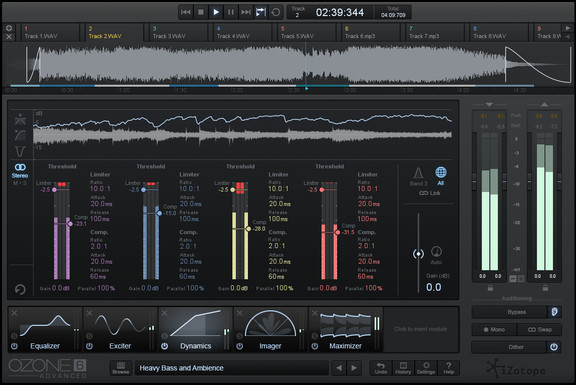 Changes in Ozone 6
New Analog Hardware-modeled EQ filter shapes — Harness the sonic characteristics of classic EQ designs with new filter shapes including Baxandall Bass and Treble filters and API-style Proportional Q filters. Also new to Ozone 6 are Band Shelf filters and Resonant High and Low shelves.
Surgical Mode — All digital linear-phase filters are now matched to analog shapes; however, Surgical Mode allows you to utilize the precision of digital shapes for extreme cuts with minimum slope.
Variable EQ Phase Control — Digital linear-phase filters now feature per-node variable phase control for subtly adding phase delay to smooth out boosts that may sound harsh.
Seamless Bypass — Audition changes to your audio by gain-matching bypassed audio to your Ozone-processed signal for faster and more accurate A/B testing.
Customizable Signal Chain — Host your third-party VST/AU plug-ins in the standalone application. Then build your mastering signal chain from scratch or load a preset and add, remove, and swap the order of modules.
Module Gain Meters — Monitor gain-staging across processing modules with Module Gain Meters that instantly illustrate where you're boosting and cutting gain across your signal chain.
Transient Emphasis — Preserve rhythmic detail while maximizing loudness with Transient Emphasis, which adds smart emphasis to transients by preserving sharp attacks.
Diode and Dual Triode Exciter Modes — Modeled after actual hardware circuitry, these Exciter modes offer vintage saturation from subtle warmth to more pronounced edge.
Stereoize Control — Add width to narrow or mono recordings without introducing phase artifacts.
Variable Knee Compression — Get precise control over compression characteristics by choosing between hard and soft compression.
Dynamics Detection Enhancements — Simulate smoother analog-style compression with both High-Pass and API Thrust-inspired Tilt filters. Use the True Envelope detection mode for RMS-style compression (flat frequency response and low distortion) triggered equally across the frequency spectrum.
New Presets — All newly designed presets utilize the improvements introduced in Ozone 6 including new Component Plug-in Presets with Ozone Advanced.
Standalone Application — Now available as both a plug-in and as a standalone application, Ozone 6 adds a number of forward-thinking features that simplify traditional mastering workflows, including:

Automatic color-coded waveform segmentation.
Tops/tails trims and fades with multiple shape types.
Third-party plug-in hosting (VST/AU Support).
Single/all-track export with iZotope SRC (sample rate conversion).
Auto-adjusted MBIT+ Dither at output.
Fully contained project folders.
Changes in Ozone 6 Advanced
Dynamic EQ Module — Ozone Advanced adds the new Dynamic EQ module, an EQ that lives and breathes with your music. Harness the precision of an equalizer with the musical ballistics of a compressor. Integrated with an intuitive workflow, these processors work in concert to create a valuable mastering tool that excels where traditional EQs and compressors fail.
Dynamic EQ Component Plug-in — Ozone 6 Advanced also includes a component Dynamic EQ plug-in for use throughout your audio editing software signal chain.
Ozone 6 is available for purchase for the introductory price of $199 USD through November 13th, 2014 (regular $249 USD). Ozone 6 Advanced is $599 USD (regular $999 USD).