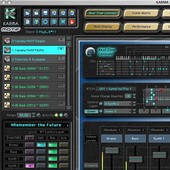 Karma Lab has announced KARMA Motif Software for the Yamaha Motif XF and XS synthesizers.
This brand-new entry in their line of software applications brings the award-winning and patented KARMA algorithmic music technology, previously only available for Korg workstations, to the Yamaha Motif XS and the new Yamaha Motif XF platforms.
Karma Motif features
8-track design (6 KARMA Modules, 2 Keyboard Layers) per Performance.
Per-track Volume and Mute stored in each of the 32 Scenes – individually adjust the mix of all parts in each scene, and which parts are playing.
Velocity Response Curves – individually tailor the velocity response for the left hand keyboard, the right hand keyboard, the input to KARMA from the keyboard, and the Chord Triggers (pads), without editing the Motif's programs or songs.
Fill/Stop Feature – use one or more modules as a melodic or drum fill, with the ability to stop and start other modules automatically.
Advanced Stutter Feature – rapidly "stutter" (retrigger) the entire groove at different rhythmic resolutions, providing an effect similar to how it would sound if you sampled the entire KARMA groove and then replicated small slices of the beginning of the sample in your DAW. From machine-gun like stutters to slow triplet hits, it adds a completely new dimension to a KARMA Performance.
Master Transpose – play in one key, generate output in another, switchable in real-time.
Chord Triggers (Pads) – Individual Vel. Sensitivity and Transpose, for not only triggering KARMA with pre-programmed chords of your choice, but for triggering hits, sound effects and even the Motif's arps.
Performance Notes Feature – bring up a detailed Performance Notes document for each included Performance, with detailed information about the Scenes, RT Control assignments, Chord Trigger assignments, key zones, methods of playing, suggested uses and more. Edit to included your own comments and create your own notes for your own Performances.
Remote Control mode – maps the Motif's Remote Control mode so that all of the buttons and sliders on the Motif's interface can be used to trigger the 16 Chord Triggers, Fills, Stutter feature, Scene changes, Scene mixes and real-time algorithmic variations – no need for an external fader/button box, although full support for interfacing them is also provided, with more assignable CCs for real-time control via external controllers.
Extensively Redesigned Single Window Interface with Activity Meters.
KARMA Motif Software for PC and Mac is available directly from Karma-Lab, and is slated to be available in April 2011, priced at $199 USD.
More information: Karma Lab