Klevgränd has announced the release of its plugin Modley, a brand new modulation delay with effect insert capabilities, which lets you design the whole delay signal with several carefully selected effect modules, to create customized signal flows and unique sounds.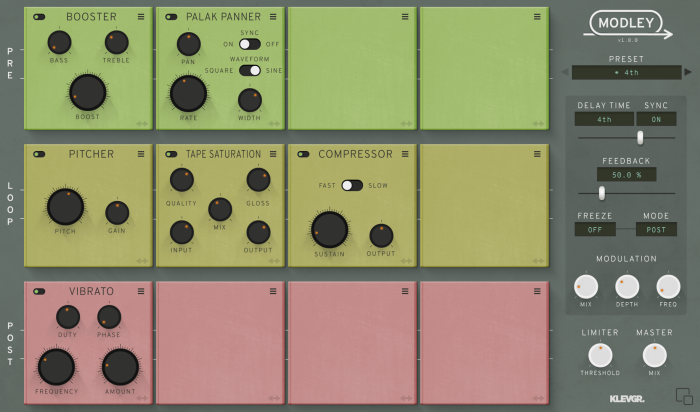 The three effect racks provide insert slots for different stages of the processing. Pre rack applies effects before the delay loop. Loop rack applies effects to the delay loop. Those effects will be applied to the input signal each delay bounce. Post rack effects after the delay loop.
The idea behind Modley is to push the boundaries of what a delay effect is capable of. While Modley sure can be used to do all the traditional tricks – Stereo delay, Tape delay, Short slapback delay etc., its true potential lies within the variety of unexpected effect modules that can be applied. It is all up to the user's creativity.
Modley features
15 different effect modules, such as Panning modulation, Phaser, Distortion, Tape Saturation, Pitch Shifter, Delay, Reverb and much more.
Time sync.
Global modulation of the delay.
Built-in limiter.
Freeze function, with pre- or post-loop processing.
Lots of presets to kickstart the creative flow.
Dry/wet mix.
Modley is available for desktop (AU/VST/AAX) for the intro price of $29.99 USD and for iOS (iPad/AUv3 only) priced at $7.99 USD. This 50% intro discount is available until July 1st, 2019.
More information: Klevgränd