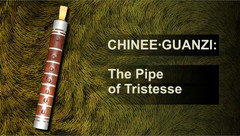 Kong Audio has released ChineeGuanZi, a virtual GuanZi, a one-of-a-kind double-reed instrument from China.
ChineeGuanzi is arguably the most expressive plugin in the whole Chinee Series so far, due to the innovative combination of pitch-envelopes with keyswitching in the patch programming, all of which blend seamlessly together with the priceless actual knowledge about the instrument itself.
ChineeGuanZi features
9th installment of the accalimed Chinee Series.
260 MB elaborately crafted sample sets.
Trademark in-depth programming.
Innovative blending of pitch envelopes with keyswitching.
ChineeGuanZi is available as a VST instrument for Windows PC (32bit only) for $60 USD.
Kong Audio has also announced the release of Instant China, a new package offer which contains ChineeWinds, ChineeKong V2+ and ChineeErhu, as an easy toolpack with the most recognizable Chinese classical instruments for all musicians and composers in the flat world.
Visit Kong Audio for more information and audio demos.