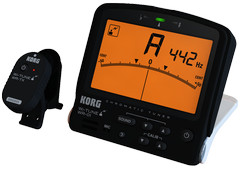 Korg has announced the Wi-Tune, a wireless chromatic tuner.
In 1975, Korg introduced the world's first hand-held electronic tuner. Now with over 20 million tuners sold, Korg remains an innovator in tuner technology, and it is once again at the forefront with the all-new Wi-Tune Chromatic Tuner. It uses Korg's Wireless Tuning System™ to provide new freedom for the musician, eliminating the need to swap cables or patch in and out of the tuner during performance.

The Wi-Tune consists of two pieces: the transmitter module and the tuner itself. To use the Wi-Tune, the player simply attaches the clip-on transmitter module to their instrument and turns it on. The Wi-Tune picks up the signal and displays the current tuning information in the large, backlit display. Users can place the tuner module anywhere, assuring maximum visibility with no cable limitations. The Wi-Tune can also be used as a traditional tuner using the built-in microphone. In addition to visual tuning, it can generate reference tones for tuning by ear.

Accurate to within ±1 cent, the Wi-Tune offers a wide detection range from A0 (27.50Hz) to C8 (4186.01Hz). It also features a folding stand for easy-to-read visibility.
Wi-Tune features
Wireless tuning – no cable required! The transmitter clips to your instrument and sends the signal wirelessly to the tuner!
The large backlit LCD offers excellent visibility, even at a distance. The newly designed meter follows even slight changes in the sound, and provides a large note name display.
The integrated cover/stand allows the tuner to be placed on a music stand, table, or on the floor to accommodate any situation.
Three Wi-Tune packages are available:

WR-01: Regular clip – guitar, string instruments, etc.
WR-01BW: Smaller clip for Brass & Woodwinds
WR-01S: Includes strap for use with Saxophone, clarinet, etc.

Internal mic allows tuning using the main unit alone.
Sound Out mode produces a reference tone from the internal speaker for tuning by ear.
Markings indicate pure major third and minor third intervals for exceptional ensemble harmonies.
Designed to provide environmentally-friendly extended battery life.
The Wi-Tune is available now for an MSRP of $150 USD.