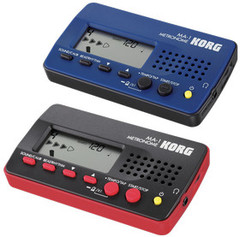 Korg has introduced the MA-1, a compact solo metronome.
The MA-1 is a compact metronome that solidly covers all the basics with a broad tempo range and a rich variety of beats and rhythm patterns.The MA-1 also shows the beat in an innovative way that makes practicing easier.

The MA-1 is available in your choice of two-tone color schemes: blue and black, or black and red. With stylish design and reliable functionality, this is an indispensible rhythm training aide for any musician.
MA-1 features
Multi-function compact metronome.
Available in two attractive color schemes: blue and black, or black and red.
Beat-Counting display makes it easier to practice your rhythm and phrasing.
Choose from two types of tempo steps: pendulum steps or full steps.
Tap Tempo function lets you quickly set the desired tempo.
Beat display offers from 1 to 9 beats, plus 8 rhythm types to practice any style of music.
Tune any instrument using the 12 step (C4 – B4) chromatic reference pitch.
Adjustable calibration setting (410 – 480 Hz).
Earphone jack with adjustable volume.
Memory backup function and auto power-off function.
Up to approximately 290 hours of continuous operation.
The MA-1 will be available to purchase this August, priced MSRP $40 USD.