Producertech has launched Producer's Guide to VocalSynth 2, a 100-minute video tutorial course on the new vocal processing plugin from iZtope.
The course takes you through each part of the software and shows a series of practical studio applications, to help develop a good understanding of VocalSynth 2 and learn how to achieve great results in your music.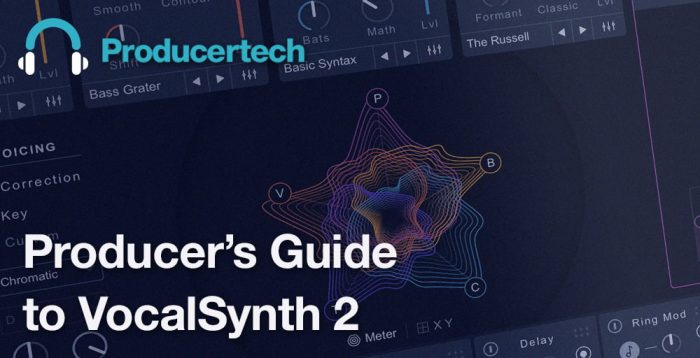 The course begins with Joshua Casper giving an overview of the plugin architecture and main graphical editing facilities, before getting stuck into each of the five main synth modules, beginning with the all-new Biovox, which uses modelling of a human vocal tract to simulate multiple biological characteristics, including nasality, vowel shapes, formants and breathiness. He then works through the remaining vocal synth sections, every one of the effects and then MIDI and sidechain modes.

Once the GUI has been sufficiently explored, Joshua walks through a number of different projects, showing how VocalSynth 2 can be used to add mesmerising textures to a variety of parts, vocal or otherwise. Topics covered include retuning vocals in MIDI mode, adding flare, compression and Major Lazer effects, creative drum processing and using non-vocal sources with the plugin.
The course also comes with 3 Ableton Live projects to try out the techniques covered and 10 bonus VocalSynth presets created by Joshua Casper.
Producer's Guide to VocalSynth 2 is available for £18 GBP / 20 EUR. It is also included in the VocalSynth 2+ Bundle, a Plugin Boutique exclusive featuring the VocalSynth 2 plugin, two tutorial courses and a vocal sample pack.
More information: Producertech