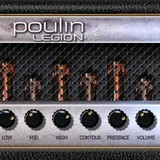 LePou Plugins has released updates for amp sim LeXtac and LeGion, a freeware preamp simulation.
LeXTAC has been inspired by a great Californian boutique amplifier.

LeGion is a high gain preamp simulator. This is an original design, it's not based on any hardware gear. My goal here was to build a high gain sim that doesn't need any booster in front in order to be tight.
LeXtac and LeGion are now available in both VST and AU for Mac. LePou Plugins has also updated the AU version of LeCto, fixing a problem where the GUI did not refresh properly on presets loading.
More information: LePou Plugins