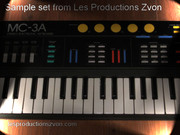 Les Productions Zvon has announced the release of MC3A, a downloadable sample pack.
The MC-3A electronic keyboard is a digital square wave instrument. I don't know exactly how old it is but my guess is that it's roughly 20 years old. It has 12 chromatic sounds.

There's a vibrato button that has no settings, it's either on or off. I've sampled the sounds with and without vibrato. Additionally, it has rhythm styles, a bass and 5 percussion sounds: kick, conga, snare, cymbal and hi-hat.

The bass and percussions are included in the set but not the rhythm styles (at least for now). All these do not sound like the acoustic instruments they're named after but more like the Sid chip, 80's and early 90's video games. Very good retro sounds for chip music (or chiptune).
MC3A features
Samples were recorded through the keyboard's line out at 24 bit/44.1 khz and then converted to 16 bits.
All the notes are sampled for the sounds without sustain (piano, guitar, harpsichord, cowbell, bass), the others have 4 notes per octave.
Available in wave, sfz and Native Instruments Kontakt 3.5 (or higher) formats.
The MC3A sample set is available to purchase as a download for $5.55 USD (includes all formats).
More information: Les Productions Zvon / MC3A