Line 6 has released version 4.0 of its Amp Farm amplifier modeling effect plugin featuring over a dozen classic amp head and combo models.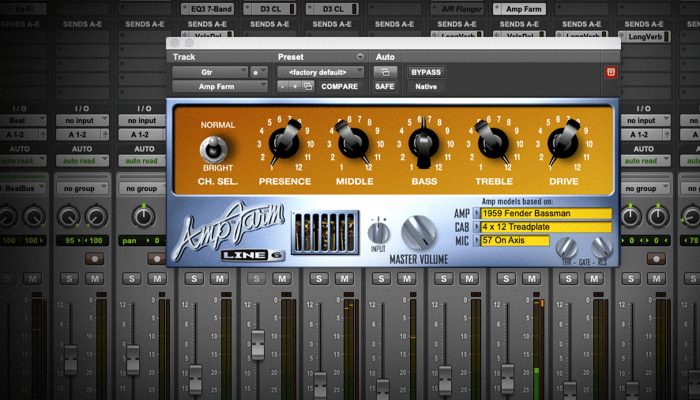 Since its introduction in 1998, the Amp Farm® plug-in has been used to add quintessential guitar tones to countless platinum albums, hit television shows, and major motion picture soundtracks. Once only available to Pro Tools TDM users, the new Amp Farm 4.0 plug-in supports 64-bit AAX, AU, and VST formats, and sample rates of up to 192kHz, making it compatible with virtually any DAW. Pro Tools users will appreciate full backward compatibility and the ability to open old sessions without losing previous sounds or settings.

Select from more than a dozen amp models based on* classic amplifiers by Marshall, Fender, Vox, Mesa/Boogie, Soldano, and more—plus 48 cab models with a choice of four mic setups.
Amp Farm 4.0 features
More than a dozen classic amp head and combo models.
48 cab models with choice of four mic setups.
Intuitive, amp-like controls and automation of all parameters.
Process live guitar inputs or reamp and modify pre-recorded tracks.
Add tube amp warmth, distortion, or cab tone to any instrument—not just guitars.
Supports sample rates up to 192kHz for excellent sound quality.
Settings and presets are 100% compatible with Pro Tools TDM sessions (AAX version only).
Amp Farm 4.0 is available in VST/VST3, AU and AAX formats, priced at $199.99 USD. Amp Farm 3.x TDM users can upgrade for $49.99 USD.
More information: Line 6