M-Audio has introduced two brand-new multimedia monitors. The BX3 and BX4 have been meticulously created for users to experience media like never before.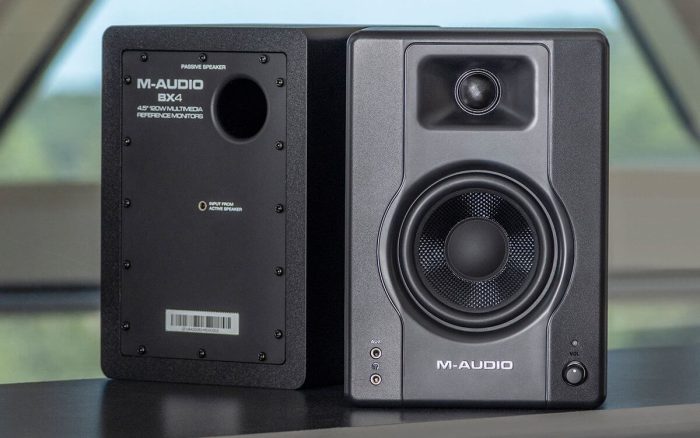 Designed for live streaming, gaming, watching movies or listening to music, M-Audio's BX3 and BX4 monitors provide the ultimate solution for compact pro-grade sound.
BX3 and BX4 speakers both feature 120 watts of crystal-clear sound, military-grade Black Kevlar® woofers and computer-optimised natural silk dome tweeters, providing a perfect combination of low bass and high-end frequencies for a true stereo image. There is also a rear port on both the BX3 and BX4 that adds extended low-frequency response for an enhanced multimedia listening experience contained inside an Acoustically-inert MDF cabinet that can fit anywhere.

Both BX3 and BX4 have a rear panel that is intelligently made to allow anyone to customise the sound and connect any computer, mobile device or multi-media system. High-EQ and Low-EQ controls dial in the ideal sound for any listening environment. The Left/Right Active Speaker Position
switch lets you choose which speaker is on the Left or Right side. The rear panel connections offer ¼-inch, 1⁄8-inch, and RCA inputs. Plus, BX3 and BX4 provide an 1⁄8-inch aux input and headphone connection on the front of the speaker for your tablet, computer, or mobile device, making the BX3 and BX4 speakers compatible with multiple input sources.

The BX3 and BX4 models include a software package that has everything needed to create podcasts, live streams and music recordings right out of the box. Pro Tools is the industry standard for recording software, and M-Audio has teamed up with Avid to craft a version of this terrific software called Pro Tools | First M-Audio Edition. M-Audio also includes 20 Avid Effect Plugins that help users record, mix, and edit any audio project.
BX3 and BX4 features
4.5-inch Black Kevlar® low frequency drivers (3.5-inch on BX3); 1-inch natural silk dome tweeters.
New computer-optimised tweeter waveguide for precise imaging.
High-EQ and Low-EQ controls for dialing in the perfect sound.
Enhanced rear ports for extended low-frequency response.
Left/right Active Speaker Position switch for configuring which side has volume control.
¼-inch, 1⁄8-inch, and RCA inputs for connecting to virtually any audio source.
Front 1⁄8-inch AUX input for quick connection of smartphones or other audio sources.
Acoustically-inert MDF cabinet with bass reflex design for deep, rich sound.
Includes 1⁄8-inch speaker interconnect cable, 1⁄8-inch to 1⁄8-inch cable and 1⁄8-inch to RCA cable.
The BX3 and BX4 are available with an MSRP of £84.99 GBP and £99.99 GBP, respectively.
More information: M-Audio