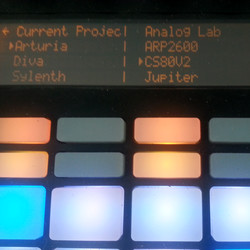 Mabelton Audio has announced the release of the DCAM Synth Squad/Ableton Push Integration Pack, an instant way to use popular third party VSTs with Push in the same way as Ableton instruments.
The DCAM Synth Squad VST Plug Ins Pack will allow you to:

Find Amber, Cypher, Strobe (and Fusion) and all their factory presets inside your Push menu
Browse through the 2,200+ factory presets from Push's screen in their categories
Load up any of the presets from Push
Control the knobs and sliders on the DCAM Synth Squad VST Plug ins using Push's knobs (and record your tweaks using Ableton's automation function)
Unlock Push's step sequencer, in key and exotic scales functions for all the Synth Squad presets

(You must own DCAM Synth Squad and Push to use this pack. Note that for Fusion, all the top level presets can be loaded from Push. Second level presets must be changed manually as usual)
The integration pack is available for purchase for £14.99 GBP.
More information: Crafted Sound