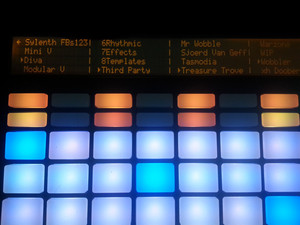 Mabelton Audio has announced U-HE DIVA – Ableton Push Integration Pack, an instant way to use u-he's Diva virtual analog synthesizer from inside Ableton's Push controller.
The DIVA Integration Pack will allow you to:

Find DIVA and all its factory presets inside your Push menu
Browse through all 1,437 of the factory presets from Push's screen (latest version of DIVA, 1,437 presets)
Load up any of the presets from Push
Control the knobs and sliders on DIVA using Push's knobs (and record your tweaks using Ableton's automation function)
NB Push allows for 99% of DIVA's parameters to be controlled

There are 1,437 preset racks in this package, each with 16 banks of 8 mapped macros.(Preset categories: local, bass, lead, polysynth, dreamsynth, percussives, rhythmic, effects, templates, Big Tone Eco, Brontoscorpio, Fernando's Hardware Factory, Ingo Weidner, Mcnoone, Mr Wobble, Sjoerd Van Geffen, Tasmodia, Treasure Trove)
The Ableton Push Integration Pack for Diva costs £4.99 GBP.
More information: Mabelton Audio