Mackie has announced the availability of Master Fader v3.0, a free controller app for all Mackie DL Series mixers (DL32R, DL1608, and DL806).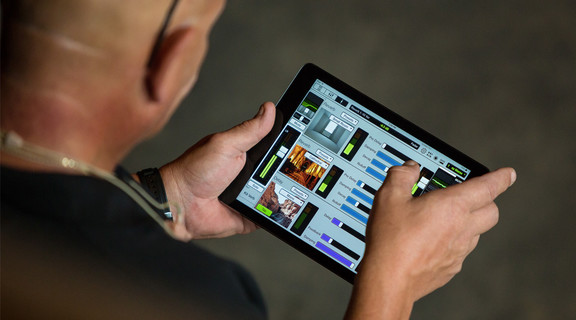 With massive upgrades built specifically for professional applications, Master Fader v3.0 not only offers the tools pros need for the all-new DL32R, it delivers huge benefits to any DL1608 or DL806 user.

"Master Fader is designed from the ground up for wireless mixing. It's the most intuitive and easy-to-use live sound control app out there," commented Ben Olswang, Mackie Senior Product Manager. "Now, with a fresh user interface that delivers faster workflow and a whole new toolset designed to meet the rigorous demands of professional live sound applications, Master Fader is better and more powerful than ever."
Changes in Master Fader v3.0 features
Support for the new Mackie DL32R.
Upgraded user interface for faster workflow

More information available at a glance for faster navigation.
New navigation bar with instant access to overview, mixer and channel view.
Improved current parameter display that reads more clearly and includes channel color.
Better access to secondary views.
Updated channel strips provides more channel information at a glance.

Added Overview showing all input and output channels at once for fast, simple navigation.
Added 4 subgroups with stereo linking and dedicated processing on each subgroup.
Added 4 VCAs for professional control over groups of channels.
Added digital trim on each input, providing additional input gain control when working wirelessly.
Added Routing view providing complete channel routing in one place for inputs, groups and outputs.
Added Custom Channel colors and Mix colors for visually differentiated channels, groups and outputs.
Updated Selector area adds mute group and view group controls along with a new Masters selector. Together, these 4 selectors control what inputs and outputs are visible.
Updated Shows view allows user to add a comment to each show. Added created/modified dates to each show for improved organization.
Added flexible Record Output patching with record levels.
Added digital Level and Delay control for headphone output.
Updated Preset workflow with new location right at the channel.
Added ability to export presets, shows and backups via Dropbox or email.
Added ability to import presets, shows and backups from 3rd party apps supporting Open In…
Master Fader v3.0 is now available as a free download from the App Store. Master Fader 3.0 is compatible with Mackie My Fader v3.0 (available soon). It is not compatible with My Fader v2.0. Do not update to Master Fader 3.0 at this time if you still need My Fader 2.0 control.
More information: Mackie