Mercuriall Audio has announced the release of ReAxis, an audio effect plugin that models MESA/Boogie Triaxis (rev. TX5A) preamp.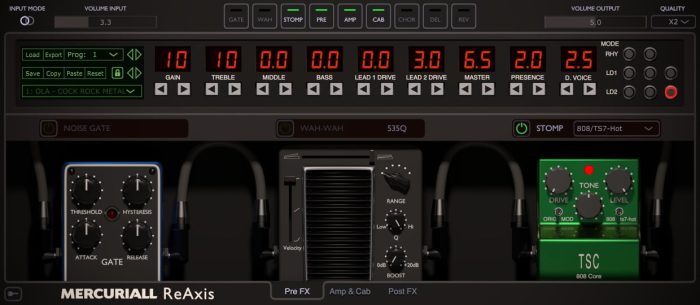 The plugin comes with tube power amps, four guitar cabinets and three microphones, a Wah-Wah based on the Dunlop 535Q, several overdrive pedals and a set of the most common spatial effects.
In the heart of the plugin you will find one of the most precise simulations of the MESA/Boogie® Triaxis™ Programmable Pre-Amp, driven by the neural networks technology.
The manufacturer of the original device calls it "an encyclopedia of tone". During the modeling process we've understood why and were amazed by the sound variety and the tone philosophy that this box contained.

It was extremely important for us to reproduce the feel and nuances of all 8 channels – just by switching the modes you'll have the preamps of such legendary amps as Mark I™, Mark IIC+™ и Mark IV™! We've also added two tube power amps, a set of quality drive pedals and the most commonly used spatial effects: you can call this package a solid guitar processor.
The plugin also includes a wah-wah pedal based on Dunlop the CryBaby 535Q, which can be controlled with automation of your DAW or a MIDI controller.
MESA/Boogie Triaxis presets presets can be imported to ReAxis and back. The plugin includes presets by Ola Englund and Tony McKenzie (https://tonymckenzie.com/triaxis_downloads.htm).
ReAxis includes Mercuriall's latest achievements in the field of real-time electric circuits modeling, with a lot of algorithms having been reworked and improved. A tube curve tracer was used to provide a "personal" mathematical model for each preamp tube.
ReAxis features
Electronic circuits of amps and pedals are modeled with our custom technology using Neural Networks.
Pedals, preamp and power amp are working within the same oversampling cycle. Thus, there is no latency build-up and no additional losses when using several anti-aliasing filters.
Realistic and smooth positioning of up to two microphones simultaneously.
Stereo-mode: right and left channels are modeled independently. This mode is useful for processing stereo signals. For example, a panned double tracked guitar.
Delay and reverb can be used in parallel to get a more expressive effect without extra routing.
Plugin supports CPU multi-threading.
ReAxis is available for the intro price of $77 USD until December 24th, 11:59 PDT. Regular price is $89.99 USD. Existing Mercuriall Audio customers can get the plugin for $69.99 USD.
A free demo is available.
More information: Mercuriall Audio / ReAxis