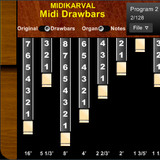 MidiKarval has released Midi Drawbars, a VST midi processor aimed to dramatically change the sound of your VST instruments the same way in which the Hammond organ's drawbars change the sound of a pure sine wave.
Each drawbar adds to the note(s) you play another note at a specified interval, whose velocity ratio to the note(s) you play depends on how much you pull out the drawbar.
Midi Drawbars features
Midi Drawbars comes with some drawbars settings, but you can create your own settings and save them in each one of the 128 memories.
Moving the "Original/Drawbars" switch it's always possible to compare the original sound with the modified one.
Nine sliders, or knobs of a MIDI keyboard, set to send CC messages #12 to 20, can be used to move the drawbars and a button sending CC message #21 can be used to move the "Original/Drawbars" switch.
Midi Drawbars is available to purchase VST plug-in for Windows PC, priced at 10 EUR. A demo version is fully functional for a 15 minutes period of time (It then expires and you have to remove and re-load it in your host to use it again).
More information: MidiKarval / Midi Drawbars