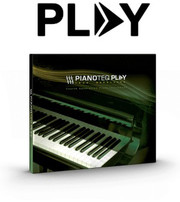 Modartt has announced Pianoteq Play, a virtual piano based on the powerful physically modelled Pianoteq software instrument.
With PIANOTEQ PLAY, all demanding musicians can now enjoy the power and beauty of the award winning physically modelled Pianoteq software, which interacts with the player with the same close intimacy as an acoustic piano.

Flexibility: PIANOTEQ PLAY users can at any time upgrade to any of the other Pianoteq products to gain further sophisticated features, such as to tweak the physical model or to position virtual microphones around the instrument. PIANOTEQ PLAY supports all Pianoteq add-ons, and if you upgrade to PIANOTEQ (standard) or PIANOTEQ PRO, the add-ons themselves upgrade automatically at no additional cost.
Pianoteq Play features
Installs in a few minutes.
Easy to maintain and update.
Excellent for use on any modern laptop.
No need to tweak settings and parameters, PIANOTEQ PLAY is delivered with perfectly designed instruments (Grand pianos K1, C3, and M3 are embedded).
PIANOTEQ PLAY supports all Pianoteq instruments. Optional add-ons: Electric pianos Rhody and Wurly, Rock piano YC5, Clavinet CL1, Vibraphones V-M and V-B. The free add-on KIViR offers a unique collection of historical instruments: cimbalom, harpsichords, pianoforte, early pianos, CP80 electric piano.
Pianoteq Play will be available to purchase on 1 June, 2010, priced at 99 EUR.
More information: Pianoteq