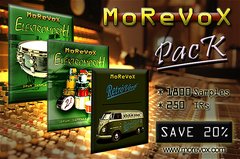 Morevox has released the Morevox PACK, a new bundle that includes all of Morevox's drums and IRs libraries.
Morevox PACK includes
ELEKTROMORPH I — a massive electronically morphed drum sample library with 32 Kicks,44 Snares,14 Tom Sets, 94 Cymbals and several other multilayer percussion and Efx.
ELEKTROMORPH II — a powerful tool which will take your drum tracks on an unexpected and creative sound adventure.
DRUMBUSTER — the "Entry Level" Morevox drums library.
RETRòVERB 2.0 — innovative Reverb Impulse Response Library designed to create Warm Vintage Reverberations joined to the Clear Deep Digital Sound.
The Morevox PACK includes a total of 400 Instruments (Drumagog, DrumRehab, Battery3, raw Wav), 1800 Samples (24bit/44.1) and 250 IRs.
The bundle is now available for download for $299 USD, a savings of 20%. For a limited time (until 30 Nov 2008) the bundle will be available with 40% off.
Visit Morevox for more information.